Avion, France (1917 / 2003)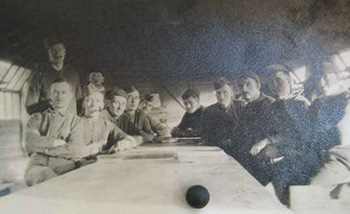 Soldiers of the 49
th
Battalion in the field;
(Photo: Used with the permission of the MacDonald Family
In October 2003, two sets of skeletal remains were discovered in the construction site by two workmen in Avion, France.
The Commonwealth War Graves Commission determined that the remains were of Canadians soldiers based on the location in which they were found and associated artefacts. These artefacts included battalion-specific buttons which indicated that the remains were those of soldiers from the 49th Battalion.

49
th
Battalion (Edmonton Regiment)
Formation Patch
During the First World War, the 49th Battalion (Edmonton Regiment) fought as part of the 7th Brigade, 3rd Division in the Lens-Avion region in June and July 1917.
During a night raid on the German front south of Avion on the 8-9 June 1917, 16 soldiers of the 49th were reported missing and presumed dead.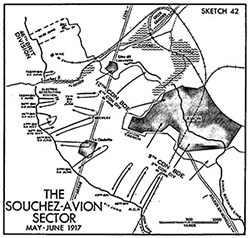 G.W.L. Nicholson's Map of trench raids in
Souchez-Avion region for May and June 1917.
Arrows show the area of attack for the 49
th
Battalion on the night of 8-9 June 1917.
Historical research, biological anthropological analysis, facial reconstruction, genetic analysis, dental analysis, and isotopic analysis was used to narrow the list of candidates down for a particular unknown soldier, until an identification was made.
Both of the sets of remains discovered in 2003 have been identified in 2007 and 2011 as Private Herbert Peterson and Private Thomas Lawless respectively.
Both soldiers were buried in March 2011 in La Chaudière Military Cemetery, Vimy.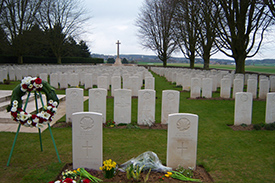 Private Lawless and Private Peterson's headstones
at La Chaudiére Military Cemetery, Pas de Calais,
France. (Photo: Laurel Clegg)
Operation Reports
3rd Canadian Division Report on Operation by 7th Infantry Brigade (including 49th Battalion) for 8/9 June, 1917. These documents are presented in their original language only.
Source: Library and Archive s Canada, War Diaries of the First World War.