Discovery in Hallu, France
View of Hallu from Punchy
In 2006, three sets of skeletal remains were discovered at the property of the Demeusere family in the village of Hallu, France. The following year five more sets of remains were recovered from the same area.
The Commonwealth War Graves Commission determined that these remains were Canadian soldiers from the First World War, from Winnipeg's 78th Battalion.

Winnipeg Grenadiers
Formation Patch
The 78th Canadian Infantry Battalion (Winnipeg Grenadiers) was part of the 4th Division's relief of the 3rd Division in the Canadian lines following in the final stages of the Battle of Amiens which began on 8 August 1918.
By 10 August, the 78th Battalion occupied the small village of Hallu located in the Somme region of France. Whilst in Hallu, the 78th Battalion suffered 46 fatalities of whom 35 were missing, presumed to have been killed in action. It was believed that the eight sets of remains recovered belong to eight of these 35 soldiers.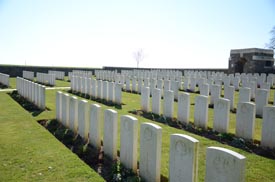 Caix Bristish Cemetery where all eight of the 78th Battalion
(Winnipeg Grenadiers) found at Hallu, France are buried.
Historical research, anthropological analysis, genetic analysis, and dental analysis were used to narrow the list of candidates.
Of the eight sets of remains discovered in 2006-2007, five have been identified as Private Sidney Halliday, Lance Sergeant John Oscar Lindell, Private Lachlan McKinnon, Lieutenant Clifford Abraham Neelands, and Private William Simms, while three are still unidentified. All eight were buried in May 2015 in the Caix British Cemetery.