Casualty Identification - Avro Anson Mk 1 L7056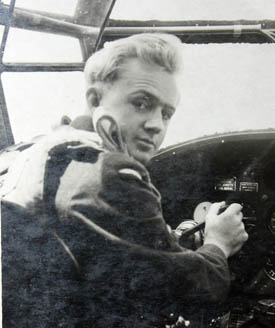 Sergeant Robert Ernest Luckock
Born 14 May 1921 in Ilford, England
Died 30 October 1942 at the age of 21
Died a member of the Royal Air Force Volunteer Reserve
Remains discovered 23 October 2013 in Port Renfrew, British Columbia
Buried at Victoria (Royal Oak) Burial Park, Section D, Plot 30, Coll. Grave 12-13
Robert Ernest Luckock was born on 14 May 1921 in Ilford, England. He was educated at Brentwood School. Prior to his enlistment on 17 January 1941, Luckock had been a clerk living in Brentwood, Essex.
Described as quick-minded, these abilities were deemed suitable for a pilot, and after rigorous training he received his pilot's flying badge on 19 June 1942.
He had over 300 hours of flying experience in single and multi-engine aircraft, by the time of Anson L7056's crash on October 30th 1942.
Luckock was an athletic man and frequently engaged in various sports, including soccer, cricket, tennis and cross country running, and was also a hobbyist fisherman.
Sergeant Luckock was buried in November 2014 at Royal Oak Burial Park, in Victoria British Columbia alongside Sergeant William Baird, Pilot Officer Charles George Fox and Pilot Officer Anthony William Lawrence.