Avion, France (1917 / 2003)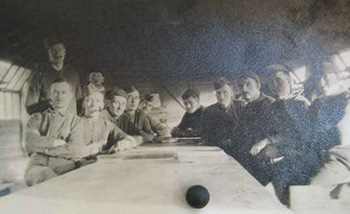 Soldiers of the 49
th
Battalion in the field;
(Photo: Used with the permission of the MacDonald Family
On October 31st 2003, two sets of skeletal remains were discovered on a construction site near Avion, Pas-de-Calais, France. The Commonwealth War Graves Commission determined that they were Canadian soldiers based on the location where they were found and their battalion specific uniform buttons and crests. They were believed to be members of the 49th Battalion Canadian Expeditionary Force. After their discovery, the Directorate of History and Heritage (DHH) of the Department of National Defence (DND) worked towards the identification of these two soldiers as part of the Casualty Identification Programme.

49
th
Battalion (Edmonton Regiment)
Formation Patch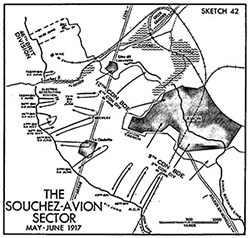 G.W.L. Nicholson's Map of trench raids in
Souchez-Avion region for May and June 1917.
Arrows show the area of attack for the 49
th
Battalion on the night of 8-9 June 1917.
The 49th Battalion, currently perpetuated by the Loyal Edmonton Regiment, fought as part of the 7th Infantry Brigade, 3rd Canadian Division. During the fighting in the Lens-Avion region in June and July 1917 the 49th Battalion took part in a night raid on the German front along the Souchez River on the 8-9 June 1917. During this raid, 16 soldiers of the 49th were reported missing and presumed dead. It was likely that the skeletal remains of the newly discovered soldiers belonged to two of the missing sixteen members of the battalion
For more information on the night raids carried out by the Canadian Expeditionary Force along the German Front you can find the full account in G.W.L. Nicholson's Official History of The Canadian Army in the First World War: Canadian Expeditionary Force, 1914-1919.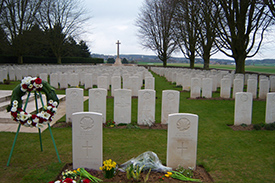 Private Lawless and Private Peterson's headstones
at La Chaudiére Military Cemetery, Pas de Calais,
France. (Photo: Laurel Clegg)
National Defence and the Canadian Armed Forces make every attempt to identify unknown soldiers before they are interred in a Commonwealth War Graves Commission cemetery. Each soldier was identified using a combination historical research, biological anthropological analysis, genetic analysis, and isotopic analysis. The first soldier found near Avion was identified in February 2007 as Private Herbert Peterson. The second soldier found near Avion was identified in January 2011 as Private Thomas Lawless. Both are interred in La Chaudiére Military Cemetery
Operation Reports
3rd Canadian Division Report on Operation by 7th Infantry Brigade (including 49th Battalion) for 8/9 June, 1917. These documents are presented in their original language only.
Source: Library and Archive s Canada, War Diaries of the First World War.