Casualty Identification
Private Sidney Halliday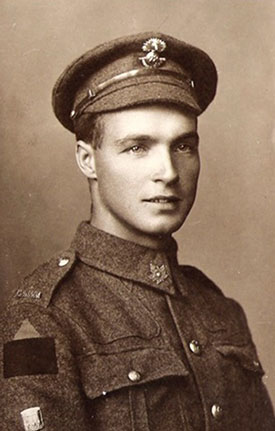 Born in 1895 in Apple Tree Cottage, Lynch Stroud Gloucestershire
Died on 11 August 1918 at the age of 22
Died a member of the 78th Battalion
Remains discovered in 2006
Buried at Caix British Cemetery, Section II, Plot AA, Grave 16
Sidney Halliday was born in 1895 in Apple Tree Cottage, Lynch Stroud Gloucestershire, England
In March 1913, Halliday travelled from Liverpool to Saint John, New Brunswick and then settled in Minto, Manitoba. Prior to enlisting Halliday was a farmer and unmarried
In December 1915, he enlisted to the 78th Battalion in Minto, Manitoba. In May 1916 Private Halliday arrived in England and then embarked for France in September of that year.
He served with the 78th Battalion until his death on 11 August 1918 in Hallu, France. His body remained interred in Hallu until it was discovered in 2006.
Family Photo of the Hallidays
During the identification process, the family of Private Sidney Halliday submitted this family photo of the Halliday family to the Casualty Identification Program.
Thirty-five soldiers of the 78th Battalion were lost and presumed to have been killed in action at Hallu. All eight remains were analysed using biological anthropology, genetic testing, and isotope analysis and compared to the profiles of the 35 candidates.
Private Halliday was a very strong candidate for two sets of remains, but some uncertainties remained.
Private Halliday's family members informed researchers that he may have been wearing certain items of jewelry at the time of his death. Just prior to enlisting, Private Halliday had exchanged rings with his sweetheart, Lizzie Walmsley, who had also been named in his will.
As it turns out, one set of remains had been found with a lock that contained two locks of hair. Between them was a piece of card which read "E. Walmsley".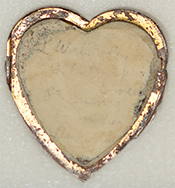 The locket after
Canadian Conservation Institute's
restoration.
Click here
for more
images of the restoration job.
The internment of Private Halliday took place on 13 May 2015 at the Caix British Cemetery . Members of Private Halliday's family, as well as representatives from the Government of Canada and the Canadian Armed Forces, attended the ceremony.
For further information on Private Sidney Halliday you can view at his personnel file at Library and Archives Canada.
Circumstance of Death Register for Sidney Halliday
Killed in Action.
148581 Private Halliday Sidney
78th Battalion 11-8-18 649-H22727 Not Stated
During an enemy counter attack on our lines in front of Hallu, he was instantly killed by the explosion of any enemy shell that landed in the trenches close by him. Owing to a temporary withdrawal from the position his body could not be recovered for burial.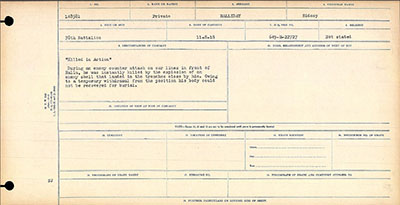 Circumstance of Death Register for Sidney Halliday