Hallu, France (1918 / 2006-2007)
View of Hallu from Punchy
In 2006, three sets of skeletal remains were discovered at the property of the Demeusere family by the son, Fabien, in the village of Hallu, France. The following year five more sets of remains were recovered from the same area. It was determined that these remains were Canadian soldiers from the First World War, from Winnipeg's 78th Battalion. Since their discovery, the Directorate of History and Heritage (DHH) of the Department of National Defence (DND) has been working towards the identification of these soldiers as part of their Casualty Identification Programme. This discovery was the largest find of unknown soldiers from the First World War for Canada since the start of the Casualty Identification Pogramme at DND.

Winnipeg Grenadiers
Formation Patch
78th Battalion
The 78th Battalion, which had the subsidiary title of Winnipeg Grenadiers , was part of the 4th Division's relief of the 3rd Division in the Canadian lines following in the final stages of the Battle of Amiens which began on the 8th of August, 1918. By the 10th of August, the 78th Battalion occupied the small village of Hallu located in the Somme region of France. Whilst in Hallu, the 78th Battalion suffered forty-six fatalities of whom thirty-five remained 'missing' and have no known grave. It was believed that the eight sets of remains recovered belong to eight of these thirty-five soldiers. Unfortunately, this was not uncommon at the time. Of the nearly 68 000 Canadian fatalities during the First World War, over 19 000 have no known grave.
For more information on the Battle of Amiens you can find the full account of the Canadian Expeditionary Force during the First World War in G.W.L. Nicholson's Official History of the Canadian Army in the First World War: Canadian Expeditionary Force, 1914-1919.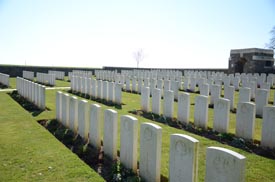 Caix Cemetery,
Cemetery where of all 8 of the
78th Battalion (Winnipeg Grenadiers)
found at Hallu, France will be buried.
National Defence and the Canadian Armed Forces make every attempt to identify such unknown soldiers before they are interred in a Commonwealth War Graves Commission cemetery. Historical research, biological anthropological analysis, genetic analysis, dental analysis and isotopic analysis is used to narrow the list of candidates down for a particular unknown soldier, until an identification is made. Of the 8 sets of remains discovered in 2006, five have been identified as Lieutenant Clifford Neelands, Lance Sergeant Oscar Lindell,Private Sidney Halliday, Private William Simms, and Private Lachlan McKinnon, while three are still unidentified. All eight will be buried in May 2015, in order to honour the aim of the Casualty Identification Programme for this case: Identifying these unknown soldiers so that they may be buried with a name by their regiment