Kapelsche Veer Casualty Identification
Private Albert Laubenstein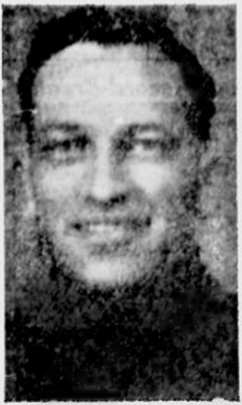 The only known picture of Pte Laubenstein.
(Edmonton Journal obituary).
Born on 28 March 1918 in Sutherland, Saskatchewan
Died 26 January 1945 at the age of 26
Died a member of the Lincoln and Welland Regiment
Remains discovered in June 2014 near Sprang-Capelle, Netherlands
Buried at Bergen-op-Zoom Canadian War Cemetery, Section 12, Plot D, Grave 9A
Private Albert Laubenstein was born on 28 March 1918 in Sutherland, Saskatchewan. At the time of his enlistment he was an unmarried labourer working for a dairy farm in Royal Oak, British Columbia. A muscular man and avid athlete, Albert enjoyed playing hockey, baseball and soccer.
On 23 July 1940 he enlisted with the 102nd (North British Columbia) Heavy Battery, RCA, CASF, feeling it was his duty to serve and intending to stay in the army after the war. On 9 November 1941 he embarked for Liverpool with the 4th Light Anti-Aircraft Regiment, RCA, CASF, and embarked for France on 18 August 1942 as a part of Operation Jubilee (the attack on Dieppe).
On 19 October 1944 he was transferred to the Rocky Mountain Rangers, CASF, as an infantryman before embarking for North-West Europe on 20 November 1944 and being posted to the Lincoln and Welland Regiment, CASF, on 9 January 1945.
Private Laubenstein died in the early morning of 26 January 1945 as part of Operation Elephant at Kapelsche Veer.
Members of his unit returned his identity discs, a wallet and some membership cards to headquarters. Following the war, the Commonwealth War Graves Commission engraved his name on panel 10 of the Groesbeek Memorial in the Netherlands with those of other soldiers who had no known grave.
On 19 June 2014, a metal detector hobbyist discovered human remains on the southern bank of the river Maas near Sprang-Capelle, Netherlands. It appeared the soldier had been given an improvised burial by his comrades before they withdrew.
The discovery of the remains having been reported to the Royal Netherlands Army's Recovery and Identification Unit (RIU), the latter undertook the exhumation the following day. The RIU transferred the recovered remains and artefacts to their laboratory at Camp Soesterberg.
The artefacts recovered along with the remains included, one ribbon with maple leaf clasp (Canadian Volunteer Service Medal), one ribbon (1939-1943 Star), eight 9mm cartridges and a silver signet ring.
A gold letter "G" had once
been attached to the ring. Pte
Laubentstein's father was
named George suggesting that
the ring may have been
an heirloom. Photo: RIU/RNLDA
More than a decade earlier, the RIU requested medical and dental records from the Directorate of History and Heritage for all six missing of the Lincoln and Welland Regiment in the midst of conducting an investigation. These records were still available to the RIU in June 2014.
The Canadian Army dental records of Private Laubenstein showed extensive dental work including distinctive gold inlays which allowed for a positive identification of the remains that same day. After close examination, members of the Royal Canadian Dental Corps were able to validate Private Laubenstein's identification.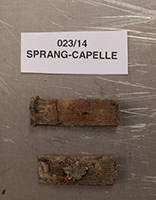 A Canadian Volunteer Service Medal
(CVSM) ribbon with the maple leaf for
overseas service and a 1939-1943
Star ribbon. Photo: RIU/RNLDA
The interment of Private Laubenstein at Bergen-op-Zoom Canadian War Cemetery took place on 6 May 2015. Attending the funeral was Private Laubenstein's nephew and his daughter, as well as representatives from the Government of Canada and the Canadian Armed Forces.
For further information on Private Laubenstein you can consult his personnel file at Library and Archives Canada.