Avion Casualty Identification
Private Thomas Lawless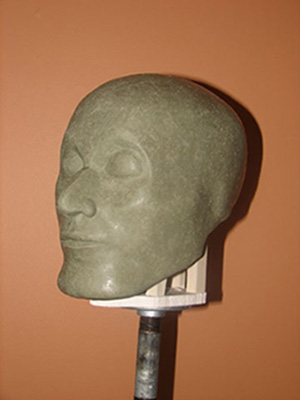 Facial reconstruction of Private Lawless used to aid in
his identification. Created by University of Western
Ontario, Christian Corbet and Dr. Andrew Nelson.
Photo Credit: Dr. Andrew Nelson
Born on 11 April 1889 in Dublin, Ireland
Died 9 June 1917 at the age of 28
Died a member of the 49th Battalion
Remains discovered in October 2003 near Avion, France
Buried at La Chaudière Military Cemetery, Section II, Plot B, Grave 1B.
Thomas Lawless was born in April 1889 in Dublin, Ireland. In 1908-09, he immigrated to Canada and settled in Alberta. He worked as a farm hand and laborer and was unmarried prior to enlistment.
In November 1915, he enlisted in the 89th Overseas Battalion in Calgary, Alberta. In August 1916, Lawless embarked for Britain. He was then transferred into the 49th Battalion and disembarked in France a month later.
He served with the 49th Battalion until his death on 9 June 1917. Because his body was unable to be recovered, he was memorialized on the Vimy Memorial.
In October 2013, two sets of remains were discovered near the city of Avion, France.
Between 2003 and 2011, the Casualty Identification Program used historical and anthropological analysis, and genetic testing to confirm the identity of Private Lawless.
Lawless was buried in March 2011 in La Chaudière Military Cemetery, Vimy alongside Private Herbert Peterson.
For further information on Private Thomas Lawless you can view his personnel file at Library and Archives Canada.
Circumstances of Death for Thomas Lawless
Killed in Action.
183425 Private Lawless Thomas
49th Battalion 9-6-17 649-L-7775 Roman Catholic
He took part in a raid on enemy trenches South of Avion, on the night of June 9th 1917. The Company had reached the final objective when Private Lawless who was in a shell hole, was killed by a concussion of an exploding shell. His comrades were badly shaken up by the same explosion, and his death occurred just at the moment the signal to return was given, consequently his body was not recovered for burial.