Hallu Casualty Identification
Lance Sergeant John Oscar Lindell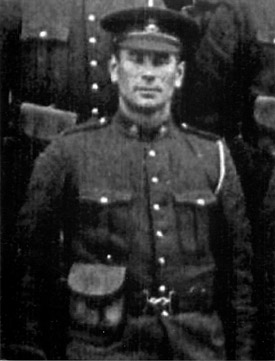 Born in 1884 in Sweden
Died 11 August 1918 at the age of 33
Died a member of the 78th Battalion
Remains discovered in 2007
Buried at Caix British Cemetery, Section II, Plot AA, Grave 13
John Oscar Lindell was born in 1884 in Sweden. In 1901, he and his family left Mä lmo, Sweden for Manitoba. Prior to enlisting Lindell was a railroad foreman and unmarried
In July 1915, he enlisted in the 78th Battalion in Winnipeg, Manitoba. In May 1916, he arrived in England and embarked for France in August of that same year.
In March 1917, he was transferred back to England after being wounded in the field but returned to France in November.
In June 1918, he was promoted to Lance Sergeant and served with the 78th Battalion until his death on 11 August 1918 in Hallu, France. His body remained in Hallu until it was discovered in 2007.
Between 2007 and 2014, the Casualty Identification Program used historical and anthropological analysis and genetic testing to confirm the identity of Lance Sergeant Lindell.
The internment of Lance Sergeant Lindell took place on 13 May 2015 at the Caix British Cemetery. Members of Lance Sergeant Lindell's family, as well as representatives from the Government of Canada and the Canadian Armed Forces, attended the ceremony.
For further information on Lance Sergeant Lindell, you can view his personnel file on the Library and Archives Canada website.
Circumstance of Death Register for John Oscar Lindell
Killed in Action.
147186 Lance Sergeant Lindell John Oscar
78th Battalion 11-8-18 649-L-4588 Lutheran
While on duty with his Company in the front line trenches in front of the village of Hallu, he and four comrades were killed during an enemy counter attack by a shell that exploded in the trench they were in. Owing to a temporary withdrawal from the position occupied, their bodies could not be taken out for burial.
Circumstance of Death Register for SJohn Oscar Lindell