Casualty Identification
Lieutenant Clifford-Abraham Neelands
Born in 1892 in Barrie, Ontario
Died 11 August 1918 at the age of 27
Died a member of the 78th Battalion
Remains discovered in 2006
Buried as Caix British Cemetery, Section II, Plot AA, Grave 12.
Clifford Abraham Neelands was born in 1892 in Barrie, Ontario. Before enlisting Neelands was a real estate agent and unmarried.
In May 1915 he enlisted in the 90th Battalion in Winnipeg, Manitoba. In June of 1916 Neelands arrived in Liverpool and was then transferred to the 78th Battalion in August 1916. In that same month he embarked for France. In July 1917, Neelands was promoted to be temporary Lieutenant.
He served with the 78th Battalion until his death on 11 August 1918 in Hallu, France. His body remained in Hallu until it was discovered in 2006.
Between 2007 and 2014, the Casualty Identification Program used historical and anthropological analysis and genetic testing to confirm the identity of Lieutenant Neelands.
The internment of Lieutenant Neelands took place on 13 May 2015 at the Caix British Cemetery. Members of Lieutenant Neelands's family, as well as representatives from the Government of Canada and the Canadian Armed Forces, attended the ceremony.
For further information on Lieutenant Clifford Neelands you can view his personnel file at Library and Archives Canada.
Circumstance of Death Register for Clifford Neelands
Killed in Action.
Lieutenant Neelands Clifford Abram
78th Battalion 11-8-18 332-90-106 Methodist
On the Morning of August 11th 1918, the enemy counter attacked at Hallu. Lieutenant Neelands on seeing the enemy advancing climbed over the parapet with the object of getting a better view and to direct the fire of his platoon. Almost immediately, after he had left the trench an enemy shell exploded nearby instantly killing him.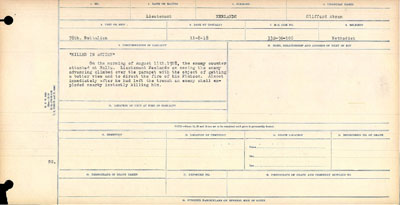 Circumstance of Death Register for Clifford Neelands