CFAP Selected Artists Group 7
Pilot Project | Group 2 | Group 3 | Group 4
Group 5 | Group 6 | Group 7 | Group 8 | Group 9
Byrne, Leah
Art Form: film, sculpture, performance.
Leah Byrne has presented work at the Odd Gallery in Dawson City as well as in festivals and group exhibitions nationally and internationally. She holds a bachelor arts degree from New York University.
---
Cole, Nancy
Art Form:Textile
Born in Summerside, PEI, Nancy Cole is a professional visual artist that uses textile as a medium. Her work deals with social themes with a strong narrative base. Her practice has evolved from traditional quilting to contemporary and concept based art pieces. She has received several grants and exhibited internationally. -"My work thrives on interaction. It is a unique interdisciplinary process that bridges visual arts, textile arts, installation, performance, and new media... . I have addressed universal issues through my practice such as foreign adoption (My First Cousin Once Removed), the birth of Canadian culture (Smile the While), climate change (Storm Surge), the search for the God particle (Big Bang), as well as more personal matters such as serendipity (Our Two Paths Crossed), friendship (Postcard from Portugal)."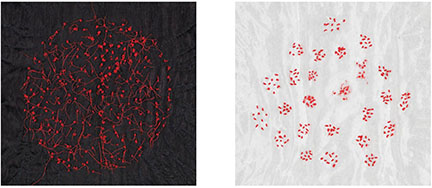 ---
Johnson, Richard
Art Form: Drawing
Born in Scotland, Richard Johnson studied at Duncan of Jordanstone College of Art and Design. In 2003 he was embedded with the United States Marine Corps for the Detroit Free Press and in 2007 with Canadian forces in Kandahar, Afghanistan for the National Post. His drawings and writings have appeared in many publications. He also returned to Afghanistan in 2011 and 2012 and in 2015 he travelled to Ukraine with the CF Artists Program.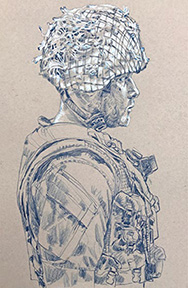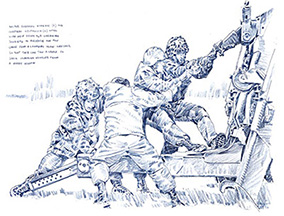 ---
Lavigueur, Guy
Art Form: Photography, Video
Born in Mont-Joli, Quebec, Guy Lavigueur acquired an interest in aviation before studying another interest at Dawson Institute of Photography in Montreal. Aerial photography is at the centre of his recent work in the Canadian North. A member of the Royal Canadian Academy of Arts since 2004, he has exhibited across Canada (Emily Carr Institute of Art and Design in Vancouver, Cube Gallery in Ottawa, Eleanor-London Gallery in Montreal) and his work is in many public, corporate and private collections in North America and Europe.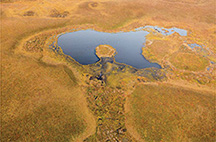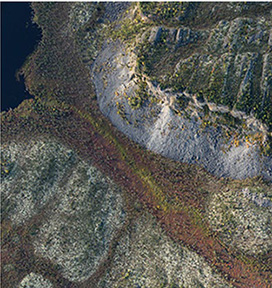 ---
Madina, Ramses
Art Form: Photography, Video
Ramses Madina studied at Carleton University and has presented works across North America. Some collections that include his works are McGill and York Universities and the City of Ottawa.
---
Murphy, Ivan
Art Form: Painting
Born in Quebec City, Ivan Murphy studied at the Nova Scotia College of Art and Design. Most of his acrylic paintings reference landscape to frame his narratives. While the places may not exist as painted, they represented slivers of memories or impressions from dream sequences that provide an authenticity to the overall image. He has received awards from the Nova Scotia Department of Culture. Murphy's works are held in numerous public and private collections including the Nova Scotia Art Bank (2006 and 2012); the U.S. Consulate General; the Department of Foreign Affairs and International Trade, Ottawa; TD Bank, NS; Butterfield Fund Services, NS; Ocean Entertainment, NS; McInnes Cooper, NS; Spectacle Design Inc., NS; Accelerator Inc, NS; and St. Lawrence College, QC.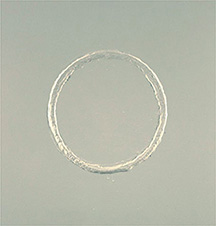 ---
Mussallem, Kathryn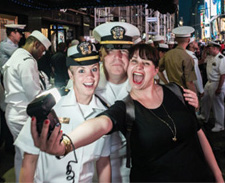 Art Form: Photography
After receiving her BFA (Photo) and a Master of Applied Arts in Visual Arts from Emily Carr University of Art + Design in Vancouver BC and a Master of Professional Studies in Digital Photography from the School of Visual Arts in New York NY, Kathryn Mussallem became an exhibiting photographer, printmaker and illustrator. Her work has recently appeared in group exhibitions in New York NY, Minneapolis MN, Saint Remy de Provence France, Leiden Netherlands, London UK and Vancouver BC. Winner of the Canadian National Prize at the 2016 Sony World Photography Awards, some of her recent solo exhibitions include: Tattoos & Scrimshaw: the Art of the Sailor at the Vancouver Maritime Museum (2013), the Maritime Museum San Diego (2014), the Los Angeles Maritime Museum (2015), the Santa Barbara Maritime Museum (2016) and It's a Sailors Life for Me at the Maritime Museum San Diego (2017).
www.thealmightyqueen.com/about-me/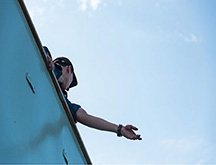 ---
Riley, Erin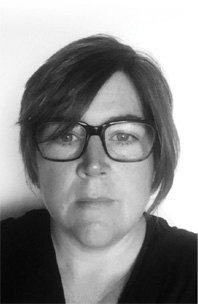 Art Form: Photography
Erin Riley was born in Toronto. She studied at the University of Western Ontario and Loyalist College, has exhibited works across Canada, and worked for several publications including the Toronto Sun, the National Post, ROB Magazine and Chill. She seeks to express through her works universal themes and characteristics focusing on specific individuals and details in their surroundings. She proposes a multi-media combination of audio interviews, photography and texts in order to create portraits of personnel on duty to help find the universal in the specific. She visited the Canadian North in April 2009 with the CFAP. Erin Riley is currently living in Toronto.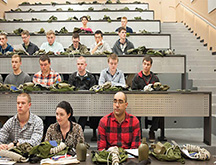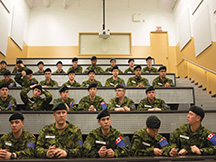 ---
Stankievech, Charles
Art Form: Photography, Video, Music
Charles Stankievech is an artist who creates 'fieldworks' engaging in art, architecture and music. His work has been exhibited internationally in a variety of settings from museums and galleries to festivals and concert halls. His writings have been included in journals published by MIT Press and Princeton Architectural Press as well as translated into French, Italian and German. Stankievech holds an MFA in Open Media and an honours BA in Philosophy and Literature. A founding faculty member of the Yukon School of Visual Arts in Dawson City, Yukon Territory, Stankievech splits his time between the Arctic and other landscapes.
---
Thompson, Mark
Art Form: stained glass
Mark Thompson was born in Ottawa in 1958 and graduated from the Ontario College of Art (now OCADU) in 1985. He has been self-employed as a glass-based visual artist since 1991 and has exhibited extensively, including a solo show at the Canadian Clay and Glass Gallery in 2003. His art form is glass-based paintings and sculpture. He also occasionally works as a stained glass conservator, most recently completing a 2-year project on the glasswork in the House of Commons. He built and maintains a fully equipped glass studio near Westport Ontario.
Website: www.markthompsonvisualarts.ca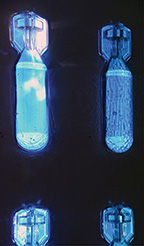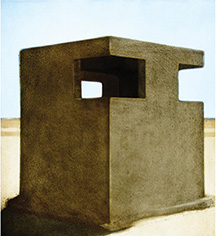 ---
Walker, Eric
Art Form:Painting, Video
Ottawa artist Eric Walker is from Halifax originally. He has a Canadian Forces background. His grandfather was a Chief Petty Officer in the Canadian Army Service Corp and his father, a Royal Canadian Navy veteran of World War ll. Eric studied media and visual art at the Nova Scotia College of Art and Design in Halifax from 1976 to 1984. His work spanning a quarter of a century is widely collected. Eric Walker is a Métis acadien and a member of the Eastern Woodland Métis Nation of Nova Scotia.