CFAP Historical Background
The production of Canadian war art was officially started in 1916, with the creation of the Canadian War Memorial Fund which commissioned, created and exhibited over 800 paintings, sculptures and prints. The Fund's works were exhibited in London, New York, Toronto and Montreal in 1919. Additional works were also shown in Toronto and Montreal in 1920. These works are now located in the Canadian War Museum, the National Gallery of Canada and in the Senate. The Fund ended shortly after the conclusion of the Great War.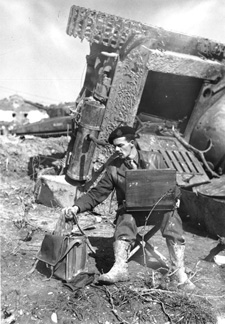 The Second World War presented yet another opportunity for the actions of those serving Canada to be officially recorded in art. The Canadian War Records Program was officially started in 1942. H.O. McCurry, Director of the National Gallery of Canada, chaired the Canadian War Artists' Committee in Ottawa. Vincent Massey, Canada's High Commissioner to London, headed the War Artists Overseas Control Committee in Britain. However, at the end of the War, Canada once again had no official war art program.
During the period from 1968 to 1995, the Canadian Armed Forces Civilian Artists Program (CAFCAP) was built on the legacy of the previous two programs. R.F. Wodehouse, Curator of War Art at the National Gallery of Canada, initiated CAFCAP to ensure that Canada's military history would be captured in art following the Second World War. Though keeping the same aim as previous war art projects, this new program allowed civilian artists to become involved, working alongside Canadian soldiers on both domestic and foreign operations. Unfortunately, this unique CF program was cancelled in 1995, due to a lack of funds.
However, the need for Canada to record the actions of its military members was not forgotten and, on June 6, 2001, the Chief of Defence Staff, General Maurice Baril, officially announced the creation of the Canadian Forces Artists Program (CFAP). This new artistic endeavour would allow Canadian artists the opportunity to record Canada's soldiers in Canada and around the world. These artists, all volunteers, will help usher in a new era of Canadian military art.
Advisory and Selection Committees
Applications are evaluated by a peer assessment committee. The committee is composed of experienced professionals recognized as such by their peers and selected on the basis of their specialized knowledge in the media to be assessed. Consideration is also given to ensure fair representation of artistic specialization, gender, Aboriginal peoples and the two official languages across the various regions and cultures of Canada.
Before they meet, selection committee members receive photocopies of all eligible applications for examination. At their meeting, they study the applications and support material, discuss the applications' relative merit and make their choices. The principal assessment criterion of the selection committee is the artistic merit of an applicant's work, taking into consideration the specific context, national context and the potential impact on her or his pursuit. Following the competition, the names of selection committee members and successful candidates are available upon request.
The selection committee reports to the advisory committee, which plays an essential role in guiding the program. As of August 2017 the advisory committee includes:
Mr. Steve Harris, Department of National Defence - Chair
Ms. Joanne Stober, Canadian War Museum,
Ms. Jennifer Morse, Legion Magazine
Mr. Jonathan Shaughnessy, National Gallery of Canada
Mr. Adrian Stimson, artist
Mr. Pao Quang Yeh, Canada Council for the Arts
Mr. Nic Clarke, Diefenbunker
Ms. Megan Lafreniere, Library and Archives of Canada
Ms. Laura Brandon, Carleton University
Ms. Christine Conley, University of Ottawa