CFAP Ardell Bourgeois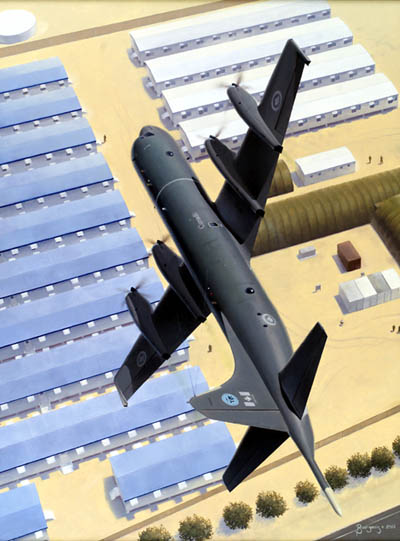 Aurora Time
Medium: Oil on canvas
Dimensions:
Date: 2002
Aerial view of camp: "I did a painting, instead of from the point of view of being down in the camp with aircraft coming over, I did a painting of you from above the aircraft looking down on the camp. The concept being that if anybody was at Camp Mirage they would be able to recognize some of the buildings and places that were around there and that would be a connection for the people from the ground crew, as well as the air crew that were flying the aircraft...It was just to try and come up with an image that was going to be more inclusive of everybody that was stationed there".
---
On Guard for Thee
Medium: Oil on canvas
Dimensions:
Date: 2002
"Obviously, based on our anthem but the concept behind it is that I have the load master from the C-130 flight that was keeping an eye out his window station, strapped in...The idea being that if the pilot has to dive or something you don't have the crewmen bouncing off the ceiling and getting injured and things like that. Again, their job is to make sure that if there is a threat indicated that they can tell the pilot where it is coming from or if it is in the rear quarter, say eleven o'clock low, they can identify if there is a smoke trail or anything."
---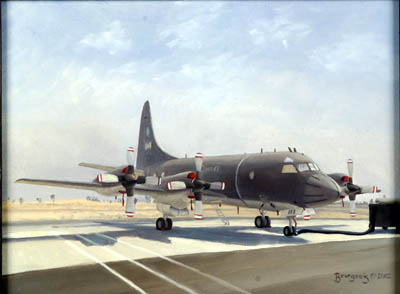 Queen Without a Hangar
Medium: Oil on canvas
Dimensions:
Date: 2002
"[This one] I had more or less completed. It was originally intended as a sketch. It was the one that I painted at Camp Mirage of the Aurora that was, for whatever reason, non serviceable...I made some minor touch-ups when I got home but fundamentally it was painted plein-aire, sketched and painted on site. [The only difference I noticed was] there's a slight texture to the paint that's not on the other ones but that's largely because there was almost always a fine sand blowing constantly."
---
Hercules and the Kabul Gate Guard
Medium: Oil on canvas
Dimensions:
Date: 2002
"While I was on the ground I was able to observe some of the detriments that were left over from the 1980's when the Soviets were in Afghanistan. There's quite a bit of equipment that's just been abandoned, pushed off to the side of the airstrip, like a 1976 tail section...kind of their gate guard...I've got a Hercules, the one I flew in on, parked with crew members that were on board the aircraft."