CFAP Allan MacKay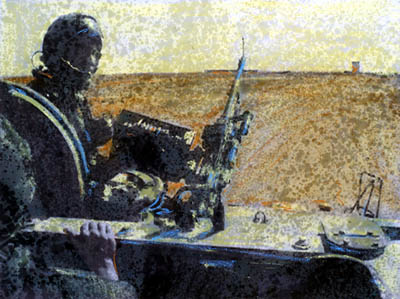 Armoured Fighting Vehicle on way to Tarnak Farm
Medium: Mixed media on paper
Dimensions:
Date: 2002
"As part of a tour, we were driven outside the perimeter of the airstrip towards Tarnak Farm. This was very flat desert-type ground, dotted with white flag ground mine locations and was the location where the four Canadian soldiers were killed and eight injured by the American friendly fire bombing --. Beyond this point we approached Osama Bin Laden's fortress in the desert."
---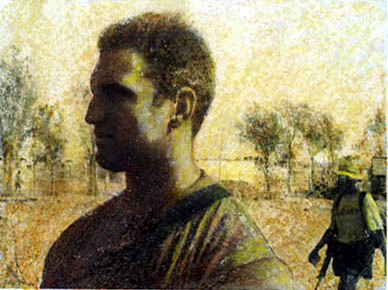 Patricia Platoon Commander with US Soldier in Background
Medium: Mixed media on paper
Dimensions:
Date: 2002
"I was in the area of the coalition mess tent taking shots to describe this site at meal time and tell the story of the coalition and the mix of forces gathered there: which included Canadians, Americans and Special Forces whose personnel were a mix of various countries. In the background is the main street in the airstrip area."
---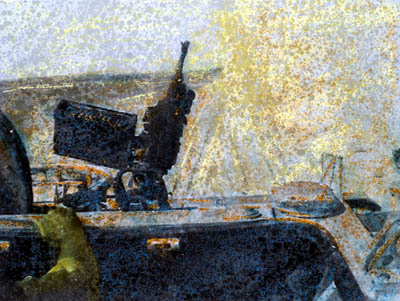 Armoured Fighting Vehicle
Medium: Mixed media on paper
Dimensions:
Date: 2002
"This image was taken on a drive in the Tarnak Farm area and approaching what I understand was the Osama Bin Laden fortress where he centralized his activities in this area. The perspective depicts the view from the armoured vehicle with details of the gun and elements of the receding road in this heated, dust-filled environment."
---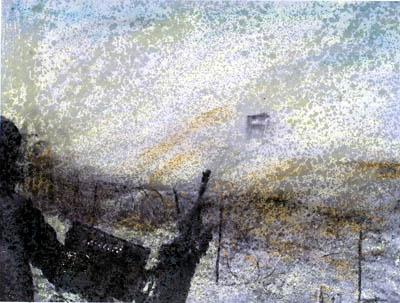 Gunner and Barbed Wire Fence
Medium: Mixed media on paper
Dimensions:
Date: 2002
"This image is at the perimeter of the Khandahar airstrip. The structure in the distance is the ruins of a building that was being occupied by Canadian, American and Afghan forces.... It was at the base of the structure that we arrived and met a number of Afghan soldiers and Canadians who drove in on another personnel carrier. The Americans were hiding under camouflage netting on the roof of the ruin while the Canadians shared tea with the Afghans. It was a guard post shared by these forces."
---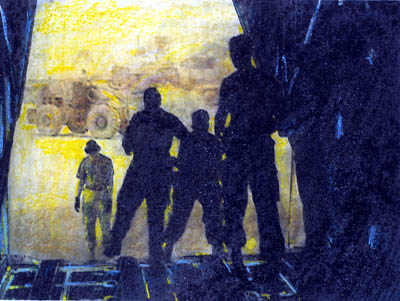 Three Silhouettes unloading a Hercules, Khandahar Airport
Medium: Mixed media on paper
Dimensions:
Date: 2002
"It was very hot and dry upon landed in Kandahar when the Hercules doors opened...the middle image is of a woman soldier on the ground who was very much involved with providing direction for the off loading of the aircraft...The scene depicted has a theatrical point of view from within the belly of the Hercules with the doors like curtains parting and then suddenly you see the parched landscape and human drama you are going to enter into."