Victoria Cross - First World War, 1914-1918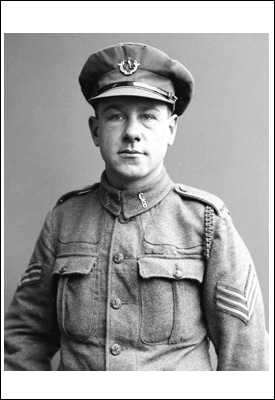 Alexander Picton Brereton
Alexander Picton Brereton was born in Oak River, Manitoba on 13 November 1892. During the First World War he served with the 8th Battalion, Canadian Expeditionary Force.
On 9 August 1918, near Warvillers in France, Corporal Brereton's platoon suddenly came under fire from six German machine guns while in an exposed position. Brereton immediately charged one of the machine guns on his own, shooting one member of the crew, bayoneting another, and compelling nine other enemy soldiers to surrender. The rest of the platoon, inspired by his example, assaulted and captured the five remaining machine gun positions. For his actions on this day, Corporal Brereton was awarded the Victoria Cross.
Brereton died in Calgary, Alberta on 11 June 1976.
Citation
"For most conspicuous bravery during an attack, when a line of hostile machine guns opened fire suddenly on his platoon, which was in an exposed position, and no cover available.  This gallant N.C.O. at once appreciated the critical situation and realised that unless something was done at once the platoon would be annihilated.  On his own initiative, without a moment's delay, and alone, he sprang forward and reached one of the hostile machine-gun posts, where he shot the man operating the machine gun and bayoneted the next one who attempted to operate it, whereupon nine others surrendered to him.
Cpl. Brereton's action was a splendid example of resource and bravery, and not only undoubtedly saved many of his comrades' lives, but also inspired his platoon to charge and capture the fire remaining posts."
(London Gazette, no.30922, 27 September 1918)