Victoria Cross - First World War, 1914-1918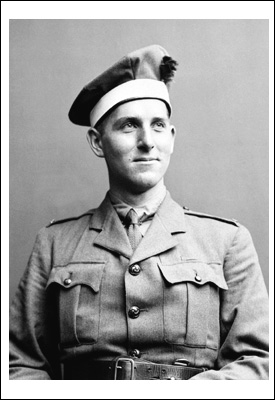 Thomas Dinesen
Thomas Dinesen was born in Rungsted, Denmark on 9 August 1892. During the First World War he unsuccessfully attempted to join the French Army, the British Army and the American Army. Finally, through the good offices of the Canadian recruiting authorities in New York, Dinesen was able to enlist in the Royal Highlanders of Canada. He served in France with the 42nd Infantry Battalion, Canadian Expeditionary Force. Private Dinesen earned the Victoria Cross as a result of his actions on 12 August 1918 in the first days of the Allied offensive known as the Battle of Amiens. On that day, his exertions over ten hours resulted in the capture of more than 1.5 kilometres of stubbornly defended German trenches at Parvillers. As well as engaging in hand-to-hand fighting, Dinesen rushed forward alone five times to put hostile machine guns out of action, killing 12 of the enemy. In recognition of Private Dinesen's achievement, the French Government awarded him the Croix de Guerre, and he was commissioned as an officer in November 1918.
Dinesen died in Leerbaek, Denmark on 10 March 1979.
Citation
"For most conspicuous and continuous bravery displayed during ten hours of hand-to-hand fighting, which resulted in the capture of over a mile of strongly garrisoned and stubbornly defended enemy trenches.
Five times in succession he rushed forward alone, and single-handed put hostile machine guns out of action, accounting for twelve of the enemy with bomb and bayonet. His sustained valour and resourcefulness inspired his comrades at a very critical stage of the action, and were an example to all."
(London Gazette, no.30975, 26 October 1918)