Victoria Cross - First World War, 1914-1918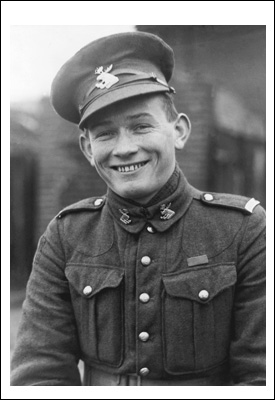 Thomas William Holmes
Thomas William Holmes was born in Montreal, Quebec on 17 August 1897 and at an early age moved with his family to Owen Sound, Ontario. During the First World War he served with the 4th Canadian Mounted Rifles, Canadian Expeditionary Force. On 26 October 1917 the 4th Canadian Mounted Rifles was taking part in the opening assault by the Canadian Corps on German defences near Passchendaele in Belgium. Heavy machine gun and rifle fire from a German "pillbox" fortification had stopped the advance by the Canadians on the right flank, and had inflicted many casualties. Alone and on his own initiative, Private Holmes ran forward and with two grenades killed and wounded the crews of two of the enemy machine guns. Returning for another grenade, he again attacked the pillbox alone and under heavy fire. Holmes threw his grenade into the entrance of the pillbox and compelled the surrender of its nineteen occupants, in so doing clearing the way for the advance to resume. For his conduct in this action Private Holmes received the Victoria Cross.
Holmes died in Toronto, Ontario on 4 January 1950.
Citation
"For most conspicuous bravery and resource when the right flank of our attack was held up by heavy machine-gun and rifle fire from a 'pill-box' strong point. Heavy casualties were producing a critical situation when Pte. Holmes, on his own initiative and single-handed, ran forward and threw two bombs, killing and wounding the crews of two machine guns. He then returned to his comrades, secured another bomb, and again rushed forward alone under heavy fire and threw the bomb into the entrance of the 'pill-box,' causing the nineteen occupants to surrender.
By this act of valour at a very critical moment Pte. Holmes undoubtedly cleared the way for the advance of our troops and saved the lives of many of his comrades."
(London Gazette, no.30471, 11 January 1918)