Victoria Cross - First World War, 1914-1918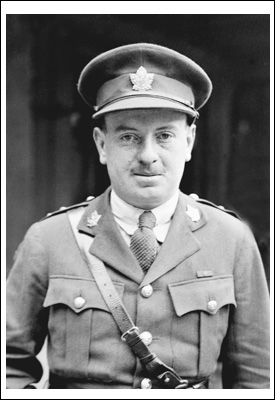 Graham Thomson Lyall
Graham Thomson Lyall was born in Manchester, England on 8 March 1892. After coming to Canada and receiving his education in Toronto, Ontario, he worked as a mechanical engineer in the Niagara region. After the First World War began, Lyall enlisted in the 102nd Infantry Battalion, Canadian Expeditionary Force. Lieutenant Lyall earned the Victoria Cross on 27 September 1918 while leading his platoon in an advance through Bourlon Wood, near Cambrai in France. When the progress of his battalion's leading company was checked by a German strongpoint, Lyall and his men outflanked the position and captured 13 prisoners, a field gun and four machine guns. Later that day, as his platoon, now weakened, was delayed by another enemy position, alone he charged the emplacement and took another 45 prisoners and five machine guns. Lyall then led his men to their final objective and consolidated it for the defence of his company, in the process taking 47 more prisoners. Finally, Lyall overwhelmed another strongly defended German position, capturing 80 prisoners and 17 machine guns.
Lyall died on active service during the Second World War on 28 November 1941 in Egypt.
Citation
"For most conspicuous bravery and skilful leading during the operations north of Cambrai.
On September 27th, 1918, whilst leading his platoon against Bourlon Wood, he rendered invaluable support to the leading company, which was held up a by a strong point, which he captured, by a flank movement, together with thirteen prisoners, one field gun and four machine guns.
Later, his platoon, now much weakened by casualties, was held up by machine guns at the southern end of Bourlon Wood. Collecting any man available, he led them towards the strong point, and springing forward alone, rushed the position single-handed and killed the officer in charge, subsequently capturing at this point forty-five prisoners and five machine guns. Having made good his final objective, with a further capture of forty-seven prisoners, he consolidated his position and thus protected the remainder of the company.
On October 1st, in the neighbourhood of Blecourt, when in command of a weak company, by skilful dispositions he captured a strongly defended position, which yielded eighty prisoners and seventeen machine guns.
During two days of operations Lt. Lyall captured in all 3 officers, 182 other ranks, 26 machine guns and one field gun, exclusive of heavy casualties inflicted. He showed throughout the utmost valour and high powers of command."
(London Gazette, no.31067, 14 December 1918)