Victoria Cross - First World War, 1914-1918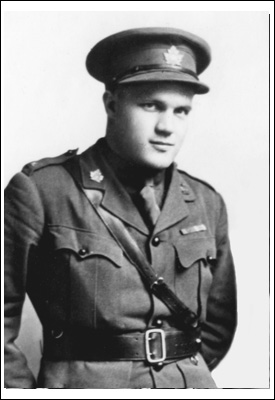 Thain Wendell MacDowell
Thain Wendell MacDowell was born on 16 September 1890 in Lachute, Quebec. During the First World War, he served with the 38th Infantry Battalion, Canadian Expeditionary Force. MacDowell received the Distinguished Service Order for his actions in the Battle of the Somme.
Captain MacDowell was awarded the Victoria Cross for his conduct on 9 April 1917, the day that the Canadian Corps attacked and captured Vimy Ridge in France. On that day, as they advanced, MacDowell and two runners became separated from the rest of their unit. Deciding nevertheless to continue forward, he put two German machine guns out of action using hand grenades, and then with his two runners entered a large dugout and proceeded along a tunnel. As they turned a corner, MacDowell and his two men suddenly found themselves face to face with a large group of enemy soldiers. By giving the impression that he had with him a superior force, Captain MacDowell was able to disarm and capture two officers and 75 men. His action enabled his battalion to capture its objective, Hill 145.
MacDowell died in the Bahamas, at Nassau, on 29 March 1960.
Citation
"For most conspicuous bravery and indomitable resolution in face of heavy machine gun and shell fire.
By his initiative and courage this officer, with the assistance of two runners, was enabled in the face of great difficulties, to capture two machine guns, besides two officers and seventy-five men.
Although wounded in the hand, he continued for five days to hold the position gained, in spite of heavy shell fire, until eventually relieved by his battalion.
By his bravery and prompt action he undoubtedly succeeded in rounding up a very strong enemy machine post."
(London Gazette, no.30122, 8 June 1917)