Victoria Cross - First World War, 1914-1918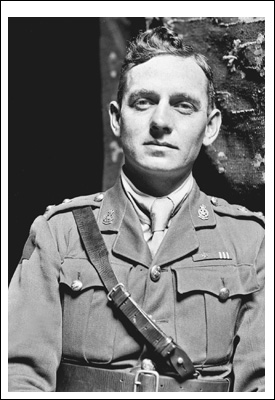 George Burdon McKean
George Burdon McKean was born in Wellington, England on 4 July 1888. He came to Canada in 1902, settling in Edmonton. At the time he enlisted as a private soldier in the Canadian Expeditionary Force during the First World War, McKean was a student at the University of Alberta. In the course of his military service, he received the Military Medal, and, after he was commissioned as an officer, the Military Cross.
Lieutenant McKean earned the Victoria Cross while serving with the 14th Infantry Battalion near Gavrelle in France on 27 and 28 April 1918. McKean was leading a party of scouts against a German trench that was being staunchly defended by troops using rifles and hand grenades. When his men hesitated, he ran forward alone and threw himself head first into the trench, killing two of the enemy with his revolver. Inspired by Lieutenant McKean's action, his men advanced and swept the German defenders aside, capturing both the trench and its remaining occupants.
McKean stayed in England after the war. On 28 November 1926 he was killed in an industrial accident.
Citation
"For most conspicuous bravery and devotion to duty during a raid on the enemy's trenches.
Lt. McKean's party, which was operating on the right flank, was held up at a block in the communication trench by most intense fire from hand grenades and machine guns. This block, which was too close to our trenches to have been engaged by the preliminary bombardment, was well protected by wire and covered by a well protected machine gun 30 yards behind it. Realising that if this block were not destroyed, the success of the whole operation might be marred, he ran into the open to the right flank of the block, and with utter disregard of danger, leaper over the block head first on top of the enemy. Whilst lying on the ground on top of one of the enemy, another rushed at him with fixed bayonet; Lt. McKean shot him through the body and then shot the enemy underneath him, who was struggling violently. This very gallant action enabled the position to be captured. Lt. McKean's supply of bombs ran out at this time, and he sent back to our front line for a fresh supply. Whilst waiting for them he engaged the enemy single-handed.
When the bombs arrived, he fearlessly rushed the second block, killing two of the enemy, capturing four others and drove the remaining garrison, including a hostile machine-gun section, into a dug-out. The dug-out, with its occupants and machine gun, was destroyed.
This officer's splendid bravery and dash undoubtedly saved many lives, for had not this position been captured, the whole of the raiding party would have been exposed to dangerous enfilading fire during the withdrawal. His leadership at all times has been beyond praise."
(London Gazette, no.30770, 28 June 1918)