Victoria Cross - First World War, 1914-1918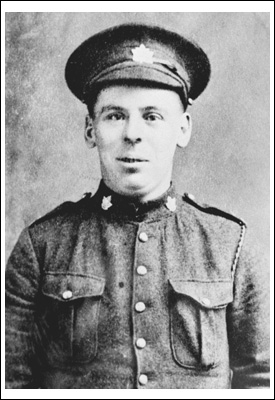 William Johnstone Milne
William Johnstone Milne was born in Cambusnethan, Scotland on 21 December 1892 and came to Canada in 1910, settling in Saskatchewan. During the First World War, he served with the 16th Infantry Battalion, Canadian Expeditionary Force.
On 9 April 1917, the 16th Infantry Battalion took part in the successful attack by the Canadian Corps on Vimy Ridge, the strongest German defensive position in northwestern France. Early that day, the advance of Private Milne's company was checked by machine gun fire. Crawling forward, he put the crews of two machine guns out of action and captured their guns. Milne was killed a short time later, and his body was never recovered.
For his conduct in this action, Private Milne was awarded the Victoria Cross posthumously.
Citation
"For most conspicuous bravery and devotion to duty in attack.
On approaching the first objective, Pte. Milne observed an enemy machine gun firing on our advancing troops. Crawling on hands and knees, he succeeded in reaching the gun, killing the crew with bombs, and capturing the gun.
On the line re-forming, he again located a machine gun in the support line, and stalking the second gun as he had done the first, he succeeded in putting the crew out of action and capturing the gun.
His wonderful bravery and resource on these two occasions undoubtedly saved the lives of many of his comrades.
Pte. Milne was killed shortly after capturing the second gun."
(London Gazette, no.30122, 8 June 1917)