Victoria Cross - First World War, 1914-1918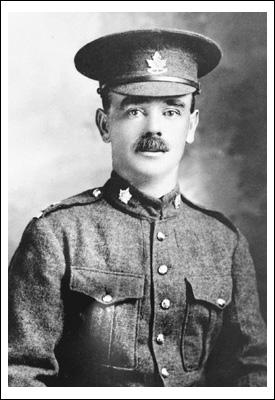 John George Pattison
John George Pattison was born on 8 September 1875 in Woolwich, England, and came to Canada in 1906. In March 1916, at the age of 40, he enlisted in the Canadian Expeditionary Force, serving in the 50th Infantry Battalion.
Private Pattison earned the Victoria Cross on Vimy Ridge in France on 10 April 1917, the day after the ridge was successfully attacked and captured by the Canadian Corps. After surviving the very heavy artillery bombardment and the assault of the previous day, several German units were regrouping in order to stop any further advance by the Canadians. As the 50th Battalion moved forward, its progress was checked by an enemy machine gun. Pattison hurried ahead from shell-hole to shell-hole until he was within 30 metres of the German position. In the face of heavy gunfire, he threw hand grenades into the emplacement, killing and wounding some of the enemy. Before the five remaining defenders could recover, Private Pattison charged the position and overcame them.
Just over seven weeks later, on 3 June 1917, Private Pattison was killed in an attack on a German-held generating station near Lens, in France. Pattison Bridge in Calgary, Alberta and a mountain peak in Jasper National Park (also in Alberta) are named in his honour.
Citation
"For most conspicuous bravery in attack.
When the advance of our troops was held up by an enemy machine gun, which was inflicting severe casualties, Pte. Pattison, with utter disregard of his own safety, sprang forward and, jumping from shell-hole to shell-hole, reached cover within 30 yards of the enemy gun.
From this point, in face of heavy fire, he hurled bombs, killing and wounding some of the crew, then rushed forward, overcoming and bayonetting the surviving five gunners.
His valour and initiative undoubtedly saved the situation and made possible the further advance to the objective."
(London Gazette, no.30215, 2 August 1917)