Victoria Cross - First World War, 1914-1918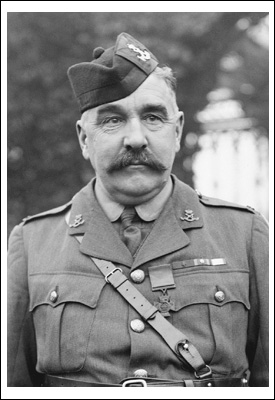 Cyrus Wesley Peck
Cyrus Wesley Peck was born on 26 April 1871 in Hopewell Hill, New Brunswick. When the First World War began, he enlisted in the 30th Infantry Battalion, Canadian Expeditionary Force (CEF), and received a commission as a major. In November 1916, Peck was promoted to command the 16th Infantry Battalion, CEF. As well as winning the Victoria Cross, Lieutenant-Colonel Peck received the Distinguished Service Order, was mentioned in dispatches five times, and was wounded twice. In 1917, while he was overseas, he was elected to the House of Commons as the Member of Parliament for Skeena in British Columbia.
Lieutenant-Colonel Peck was awarded the Victoria Cross for his courageous leadership on 2 September 1918, during the fighting for the Drocourt-Quéant Line, near Cagnicourt in France. Seeing that the advance of his battalion had been halted by heavy German fire, Peck conducted a reconnaissance of the enemy position. He then reorganized his battalion to deal with the situation, leading it under intense fire. Ultimately, his actions paved the way for another battalion to push forward.
Peck died in Sydney, British Columbia on 27 September 1956.
Citation
"For most conspicuous bravery and skilful leading when in attack under intense fire.
His command quickly captured the first objective, but progress to the further objective was held up by enemy machine-gun fire on his right flank.
The situation being critical in the extreme, Colonel Peck pushed forward and made a personal reconnaissance under heavy machine-gun and sniping fire, across a stretch of ground which was heavily swept by fire.
Having reconnoitred the position he returned, reorganised his battalion, and, acting upon the knowledge personally gained, pushed them forward and arranged to protect his flanks. He then went out under the most intense artillery and machine-gun fire, intercepted the Tanks, gave them the necessary directions, pointing out where they were to make for, and thus pave the way for a Canadian Infantry battalion to push forward. To this battalion he subsequently gave requisite support.
His magnificent display of courage and fine qualities of leadership enabled the advance to be continued, although always under heavy artillery and machine-gun fire, and contributed largely to the success of the brigade attack."
(London Gazette, no.31012, 15 November 1918)