Victoria Cross - The South African (Boer) War 1899-1902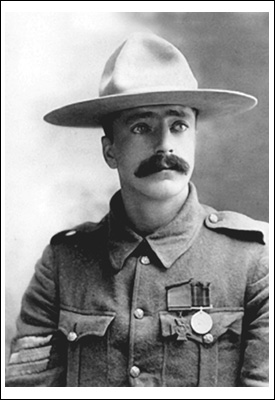 Arthur Herbert Lindsay Richardson
Arthur Herbert Lindsay Richardson was born in Southport, England on 23 September 1873. In 1894, he came to Canada and joined the North West Mounted Police. When the South African War began in 1899, Richardson obtained leave from the Mounted Police to enlist in Lord Strathcona's Horse (Royal Canadians), a regiment that was being raised for service in the conflict.
Sergeant Richardson earned the Victoria Cross on 5 July 1900 at Wolve Spruit, near Standarton in South Africa. When he spotted a wounded Canadian trooper whose horse had been shot, he rode through heavy crossfire to within 300 metres of the enemy in order to rescue his comrade.
Richardson returned to the Mounted Police after the war ended in 1902, and eventually reached the rank of sergeant-major. However, in 1907 poor health forced him to purchase his discharge and, eventually, to settle in Liverpool, England, where he became a recluse. During this period, another man named Arthur Richardson, a corporal in The Gordon Highlanders of the British Army, began passing himself off as the winner of the Victoria Cross. He succeeded so well that, when he died, he was buried with military honours. Ironically, the real Arthur Richardson, VC was discovered marching in the funeral cortège of his imposter. As a result, Richardson rose to a certain prominence in his late middle age. He died in Liverpool on 15 December 1932.
Citation
"On the 5th July, 1900, at Wolve Spruit, about 15 miles north of Standerton, a party of Lord Strathcona's Corps, only 38 in number, came into contact, and was engaged at close quarters, with a force of 80 of the enemy.
When the order to retire had been given, Sergeant Richardson rode back under a very heavy cross-fire and picked up a trooper whose horse had been shot and who was wounded in two places and rode with him out of fire.
At the time when this act of gallantry was performed, Sergeant Richardson was within 300 yards of the enemy, and was himself riding a wounded horse."
(London Gazette, no.27229, 14 September 1900)