Victoria Cross - First World War, 1914-1918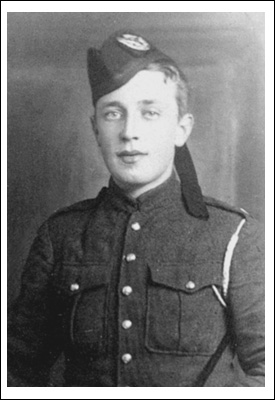 James Cleland Richardson
James Cleland Richardson was born in Bellshill, Scotland on 25 November 1895, and later came to Canada. When the First World War began, he enlisted as a piper in the 16th Infantry Battalion, Canadian Expeditionary Force.
On 8 October 1916, the 16th Battalion was attacking a German position called Regina Trench during the latter stages of the Battle of the Somme in France. When Piper Richardson's company was held up in front of the enemy trench by uncut barbed wire and intense gunfire, he strode back and forth, calmly playing his bagpipes. Inspired by his example, his company assaulted the barbed wire, made their way through it, and captured the German position.
Richardson survived the attack and was later detailed to escort a wounded comrade and some prisoners of war to the rear. Along the way he realized that he had left his bagpipes behind, and returned to retrieve them. He was never seen alive again. For his exemplary courage under fire in this action, Piper Richardson was awarded the Victoria Cross posthumously.
Citation
"For most conspicuous bravery and devotion to duty when, prior to attack, he obtained permission from his Commanding Officer to play his company 'over the top.'
As the company approached the objective, it was held up by very strong wire and came under intense fire, which caused heavy casualties and demoralised the formation for the moment. Realising the situation, Piper Richardson strode up and down outside the wire, playing his pipes with the greatest coolness. The effect was instantaneous. Inspired by his splendid example, the company rushed the wire with such fury and determination that the obstacle was overcome and the position captured.
Later, after participating in bombing operations, he was detailed to take back a wounded comrade and prisoners.
After proceeding about 200 yards Piper Richardson remembered that he had left his pipes behind. Although strongly urged not to do so, he insisted on returning to recover his pipes. He has never been seen since, and death has been presumed accordingly owing to lapse of time."
(London Gazette, no.30967, 22 October 1918)