Victoria Cross - First World War, 1914-1918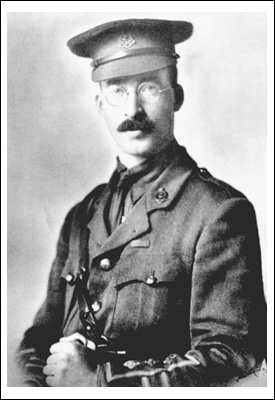 Francis Alexander Carron Scrimger
Francis Alexander Carron Scrimger was born in Montreal, Quebec, on 10 February 1880. He studied medicine at McGill University. At the outbreak of the war, he was a surgeon and lecturer. He joined the Canadian Army Medical Corps and served as medical officer of the 14th Infantry Battalion, Canadian Expeditionary Force.
Captain Scrimger earned the Victoria Cross in Ypres, Belgium, 25 April 1915 for bravery in directing the evacuation of the wounded from his advanced dressing station under heavy enemy shelling. He carried a severely wounded officer to safety, and remained with him under fire until additional help could be obtained. Scrimger died in Montreal, Quebec, on 13 February 1937.
Citation
"On the afternoon of 25th April, 1915, in the neighbourhood of Ypres, when in charge of an advanced dressing station in some farm buildings, which were being heavily shelled by the enemy, he directed under heavy fire the removal of the wounded, and he himself carried a severely wounded Officer out of a stable in search of a place of greater safety. When he was unable alone to carry this Officer further, he remained with him under fire till help could be obtained.
During the very heavy fighting between 22nd and 25th April, Captain Scrimger displayed continuously day and night the greatest devotion to his duty among the wounded at the front."
(London Gazette, no.29202, 23 June 1915)