Victoria Cross - First World War, 1914-1918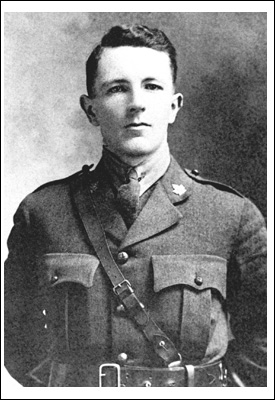 James Edward Tait
James Edward Tait was born in Maxwelltown, Scotland on 27 May 1888 and later came to Canada. In November 1915, he enlisted in the Canadian Expeditionary Force (CEF), and was commissioned as an officer. Tait received the Military Cross for his conduct on 9 April 1917, the day the Canadian Corps attacked and captured Vimy Ridge in France.
Lieutenant Tait earned the Victoria Cross posthumously for his actions while serving with the 78th Infantry Battalion, CEF during the first four days of the Battle of Amiens, 8 to 11 August 1918. When the progress of his company was checked by German machine guns in Beaucourt Wood in France, Tait rallied his men and led them forward despite the intense fire. However, a concealed enemy machine gun continued to cause heavv casualties until Tait charged the gun position alone, and killed the machine gunner. Inspired by his action, his men attacked the main German position, capturing 20 prisoners and 12 machine guns. This enabled the 78th Battalion to resume its advance. On another occasion, when the enemy counterattacked, Tait, although wounded mortally by an exploding shell, continued to direct his men in the defence until he died.
Citation
"For most conspicuous bravery and initiative in attack. The advance having been checked by intense machine-gun fire, Lt. Tait rallied his company and led it forward with consummate skill and dash under a hail of bullets. A concealed machine-gun, however, continued to cause many casualties. Taking a rifle and bayonet, Lt. Tait dashed forward alone and killed the enemy gunner. Inspired by his example his men rushed the position, capturing twelve machine-guns and twenty prisoners. His valorous action cleared the way for his battalion to advance.
Later when the enemy counter-attacked our positions under intense artillery bombardment, this gallant officer displayed outstanding courage and leadership, and though mortally wounded by a shell, continued to direct and aid his men until his death."
(London Gazette, no.30922, 27 September 1918)