Battle Honours and Honorary Distinctions
ANCRE, 1916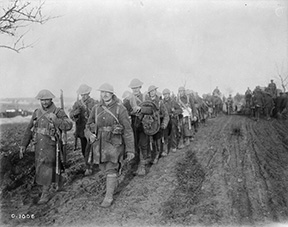 Canadian troops returning from the trenches.
November, 1916. Battle of the Somme.
Credit: Canada. Dept. of National Defence/Library
and Archives Canada/; (MIKAN no. 3521804)
Date
13 - 18 November 1916
Geographical Parameters
The Bapaume road to La Boisselle: thence road to Aveluy - Martinsart - Englebelmer - Mailly-Maillet - Colincamps - Hébuterne - Puisieux-au-Mont
Context
A battle honour incorporating the tactical incident "Capture of Beaumont Hamel", formally entitled "Battle of the Ancre, 1916" and itself being part of the "Operations on the Somme (1 July - 18 November 1916)" 1.
Description
The Battle of the Somme had been underway for four months, since 1 July, and both sides had grown weary as the autumn weather steadily deteriorated. British troops in front of Bapaume were gaining ground and so a defensive attack was made along the Ancre River in order to pin the German troops here in place and prevent their reinforcing the Bapaume sector. The ground was treacherous with the innumerable shell holes in the chalk filling with rainwater. The assaulting Allied troops managed, at last, to capture the ruined village of Beaumont-Hamel, the Newfoundland Regiment's original objective of 1 July. The 4th Canadian Division, undertaking its first operations in the field, was the sole Canadian formation engaged in these battles, capturing the important objectives of Regina and Desire Trenches, the former being a Canadian Corps objective from September.
The cessation of the operation on 18 November brought the five month long Battle of the Somme to its conclusion.
A heavy howitzer on the Somme. November, 1916.
A gunner is writing "I am the Hun's Father Christmas"
on the mounting of a BL 9.2 inch heavy howitzer.
November, 1916. Battle of the Somme.
Credit: Canada. Dept. of National Defence/Library and Archives
Canada/; MIKAN no. 3395221
Awarded to:
Currently Serving Units
Units on the Supplementary Order of Battle
24th Field Artillery Regiment, RCA 14