Battle Honours and Honorary Distinctions
CAMBRAI, 1918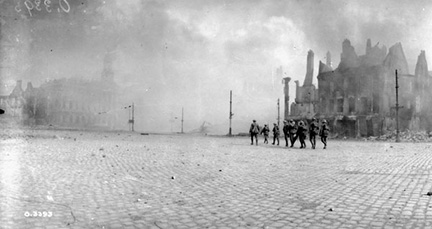 Canadians entering the Square in Cambrai,
three sides of it on fire. Advance East of Arras. Oct. 1918.
Credit: Canada. Department of National Defence/Library
and Archives Canada/; (MIKAN no. 3643090)
Date
8-9 October 1918
Geographical Parameters
Road Fresnoy – Sequehart – Bellinglise – Bellicourt – Vendhuille – Villers-Guislain – Villers-Plouich – Graincourt – Bourlon – Oisy-le-Verger: thence the river Sensée
Context
A battle honour incorporating the tactical incidents "Capture of Villers-Outréaux" and "Capture of Cambrai", formally entitled the "Battle of Cambrai, 1918", and itself being part of "The Battles of the Hindenburg Line" 1.
Description
Having broken through the Hindenburg Line, the strongest German fixed defences on the Western Front, The Canadian Corps (Lieutenant-General Sir A.W. Currie) proceeded to outflank the city of Cambrai on its northern side. The Corps' task was to secure crossing sites over the Canal de l'Escaut that ran through the city in a south west to north east direction. While the 2nd Canadian Division (Major-General Sir H.E. Burstall) secured the crossing points, the 3rd Canadian Division (Major-General F.O.W. Loomis) entered the city from the north west. Except for small German rearguards the Canadians found the city to be deserted. German attempts to burn Cambrai had been thwarted by the rapid Canadian advance.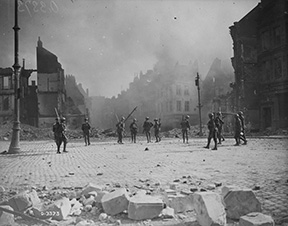 Canadians entering Cambrai. Advance East of Arras.
October 9, 1918.
Credit: William Rider-Rider/Canada. Department of
National Defence/Library and Archives Canada/PA-003270;
(MIKAN no. 3520999)
Awarded to:
Currently Serving Units
Units on the Supplementary Order of Battle
38th Field Battery, RCA29
118th Medium Battery, RCA 30
Disbanded Units