Battle Honours and Honorary Distinctions
FESTUBERT, 1915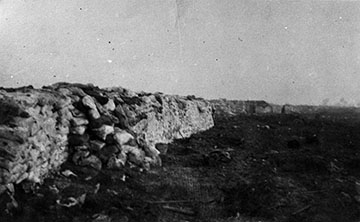 Image of a German parapet, photographed near Festubert, France. 1915.
Credit: Canada. Dept. of National Defence / Library and Archives Canada
/ PA-005760; Photographer: Lamb, Henry John, b. 1871; (MIKAN no. 3329315)
Date
15-25 May 1915
Geographical Parameters
The La Bassée Canal to Gorre: thence road to le Touret – Lacouture – Croix Barbée: thence a line to the Bois de Biez (Southwest corner)
Context
A battle honour incorporating the tactical incidents "Second Action of Givenchy, 1915", "First Attack on Bellewaarde", and "Actions of Hooge", formally entitled the "Battle of Festubert", and itself being part of "The Battles of Ypres" 1.
Description
The Honour "Festubert, 1915" was one of three offensives launched by the British in the First Army Sector to relieve pressure on Ypres to the north and the French attacks on Vimy Ridge to the South. The 3rd Canadian Brigade (Brigadier-General R.E.W. Turner, VC) was the first Canadian formation engaged in the fighting when it was assigned to support the British 7th Division's attack on 18 May. The 3rd Brigade had reduced a gap in the line between the British 2nd and 7th Divisions. During the night of 18-19 May the 2nd Canadian Brigade (Brigadier-General A.W. Currie) relieved the remainder of the 7th Division and General Alderson prepared the Canadian Division (Lieutenant-General E.A.H. Alderson) to continue the offensive. The Canadian Division's attacks on the 20th and 21st were conducted in cooperation with the 51st Highland Division on its left. Unfortunately, there was little success due to poor artillery support and a stubborn German defence with effective artillery and counter-attacks. Grouped with the 47th British Division on its right and with a six-hour bombardment of German lines, the First Canadian Division conducted another attack on 24 May only to find that the artillery had not silenced the German machine guns. The last Canadian involvement in the attack was a group of dismounted cavalrymen from the Canadian Cavalry Brigade (Brigadier-General J.E.B. Seely) known as the "Seely's Detachment". The Brigade had volunteered for this service due to the heavy casualties in the First Canadian Division. On the evening of 25 May, with no training in trench warfare, they attacked alongside the British 47th Division and did take some ground that was consolidated by parties of the 2nd Brigade. During their many attacks the Canadians had taken 600 yards of ground across a mile wide front, taking some German defences, but had not reached their objectives or the German front line. The cost was 2468 casualties. These battles highlighted the problems of allied artillery and tactics of attack while demonstrating the effectiveness of German artillery, machine guns, trench mortars and stick grenades.
Awarded to:
Currently Serving Units
Units on the Supplementary Order of Battle
7th Anti-Aircraft Artillery Operations Room, RCA32
65th Field Battery, RCA 36
Disbanded Unit
3rd (Reserve) Searchlight Battery (Coast Defence), RCA41