Battle Honours and Honorary Distinctions
SCARPE, 1918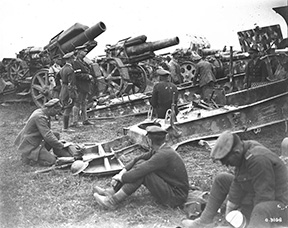 Commander of the Canadian Corps, Lieutenant-General Sir Arthur Currie,
inspecting German guns captured in the Amiens offensive, August, 1918.
Credit: Canada. Department of National Defence/Library and Archives
Canada/PA-003046; (MIKAN no. 3397919)
Date
26-30 August 1918
Geographical Parameters
Noreuil (exclusive) – St. Léger (exclusive) – Boisleux-au-Mont – Roclincourt – Bailleul – Oppy
Context
A battle honour incorporating the tactical incident "Capture of Monchy-le-Preux", formally entitled the "Battle of the Scarpe, 1918", and itself being part of "The Second Battles of Arras, 19181.
Description
Following the brilliant success of the Canadian Corps (Lieutenant-General Sir A.W. Currie) at Amiens on 8 August 1918, the Corps was moved back north to rejoin First (British) Army near Arras. Later, in mid-August, plans were laid for First Army to attack east toward the German-held Drocourt-Quéant Line, an extension of the Hindenburg Line. The 2nd (Major-General Sir H.E. Burstall) and 3rd (Major-General L.J. Lipsett) Canadian Divisions began the advance on 26 August attacking on a four-mile frontage between the village of NeuvilleVitasse and the River Scarpe. The Canadians quickly captured the villages of Monchy-le-Preux and Guémappe. The Germans subsequently withdrew into the prepared positions of the Drocourt-Quéant Line and the Canadians continued their advance with plans to attack the Drocourt-Quéant Line on 30 August 1918.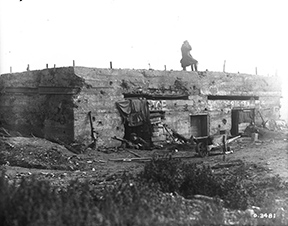 Large concrete iron reinforced machine gun post after
the capture of the Drocourt-Quéant line. October, 1918.
Credit: Canada. Department of National Defence/Library
and Archives Canada/; (MIKAN no. 3522357)
Awarded to:
Currently Serving Units
Units on the Supplementary Order of Battle
Disbanded Units