Battle Honours and Honorary Distinctions
THIEPVAL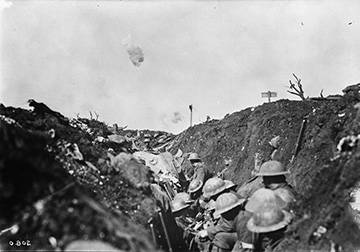 Shrapnel bursting over reserve trench in Canadian lines
during the Battles of the Somme, 1916. September, 1916
Credit: W.I. Castle / Library and Archives Canada /
PA-000733; Photographer: Castle, William Ivor, 1877-1947.;
(MIKAN no. 3521762)
Date
26 - 29 September 1916
Geographical Parameters
The Bapaume road to Martinpuich (exclusive) – Contalmaison – Bécourt – Albert (exclusive); thence road to Martinsart – Englebelmer – Auchenvillers – Serre
Context
A battle honour formally entitled the "Battle of Thiepval Ridge" and itself being part of "The Battles of the Somme, 1916" 1.
Description
The Honour "Thiepval" was awarded for an attack to take Thiepval Ridge between the villages of Thiepval and Courcelette at the end of September 1916. It was planned as a two-Corps attack, the British 2nd Corps attacking on the left and the Canadian Corps (Lieutenant-General Sir J.H.G. Byng) on the right. Launched on 26 September, the Canadian attack was conducted by the 1st Division (Major-General A.W. Currie) and the 6th Brigade (Brigadier-General H.D.B. Ketchen) of the 2nd Division (Major-General R.E.W. Turner, VC) on its right. The Canadians were to break the German defences along the ridge taking the German positions of Zollern Graben, Hessian Trench and Regina Trench. Following three days of harassing artillery fire on the German positions, a large 800 gun barrage on 26 April signalled the beginning of the attack. Even with the artillery preparation, German machine gun positions had survived the bombardment and caused heavy casualties in the Canadian ranks. Heavy fighting continued for sections of both Zollern and Hessian Trenches for the next few days. On the 28th the 4th (Brigadier-General R. Rennie) and 5th (Brigadier-General A.H. Macdonell) Brigades of the 2nd Division relieved the 1st Division to continue the attack in the same area. On the same day, on the left of the 2nd Division, the 3rd Division (Major-General L.J. Lipsett) made an attack with the British 11th Division against Hessian Trench. By the 29th of September, Canadian and British troops occupied both Zollern and Hessian Trenches. However, the ultimate objective of Regina Trench, which protected the highest part of the ridge, was not taken. Attempts to secure Regina Trench would continue to be the objective for the following weeks.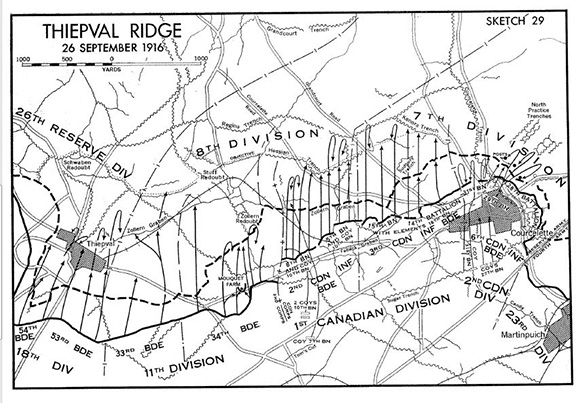 Sketch depicting the initial attack made by the C.E.F.
on the German trenches along Thiepval Ridge.
Credit: Sketch by Nicholson, C.E.F. 1914-1919, P.175
Awarded to:
Currently Serving Units
Units on the Supplementary Order of Battle
Disbanded Units