Battle Honours and Honorary Distinctions
VIMY, 1917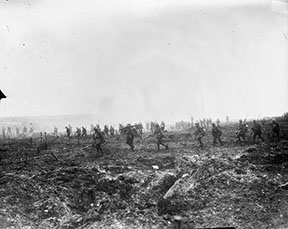 29th Infantry Battalion advancing over "No Man's
Land" through the German barbed wire and heavy
fire during the Battle of Vimy Ridge. Apr. 1917
W.I. Castle/Canada. Department of National Defence/
Library and Archives Canada/PA-001086; Photographer:
Castle, William Ivor, 1877-1947.; (MIKAN no. 3233066)
Additional information
This original photo showing the advance on Vimy Ridge,
was later retouched by official photographer W.I.
Castle for exhibition purposes related to the Canadian
War Records Office exhibitions of battle pictures
(see Mikan # 3192389 for retouched version).
MIKAN no. 3233066
Date
9-14 April 1917
Geographical Parameters
Willerval – Maroeuil – Mont St. Eloy – Ablain-St. Nazaire – Liévin-Lens
Context
A battle honour formally entitled the "Battle of Vimy Ridge" and itself being part of "The Battles of Arras, 1917"1.
Canadians advancing through German wire entanglements - Vimy Ridge. April, 1917
Credit: Canada. Department of National Defence/Library and Archives Canada/; (MIKAN no. 3404765)
Description
The Honour "Vimy, 1917" was awarded to those units that participated in the taking of this ridge. Although the main effort in taking the ridge was by Canadian units several British units also earned this honour. After months of preparation the Canadian Corps (Lieutenant-General Sir J.H.G. Byng) comprising four Canadian and one British division had the principal task of taking this important geographical feature. The 1st (Major-General A.W. Currie), 2nd (Major-General Sir H.E. Burstall) and 3rd (Major-General L.J. Lipsett) Divisions were able to take their objectives successfully on 9 April 1917 but the 4th Division (Major-General Sir D. Watson), with the highest point of the ridge as its objective, had not been able to push the Germans off of Hill 145. This high point was taken the following day allowing the Canadian Corps to then turn its attention to the capture of the feature known as "The Pimple" on the northern most tip of the ridge. Intentionally left to be taken after Hill 145 it would not be until 12 April that the Canadians carried out their successful attack against this feature. The final phases of the "Battle of Vimy Ridge" consisted of pursuing the German retreat to the east to their new defensive positions between Avion, Arleux-en-Gohelle to Oppy and Gavrelle.
Map of the attack made by the Canadian Corps on Vimy Ridge.
Credit: Map by Nicholson in C.E.F. 1914-1919; p.262.
Awarded to:
Currently Serving Units
Units on the Supplementary Order of Battle
Disbanded Units