Volume 2, Part 1: Extant Commissioned Ships
HMCS Cabot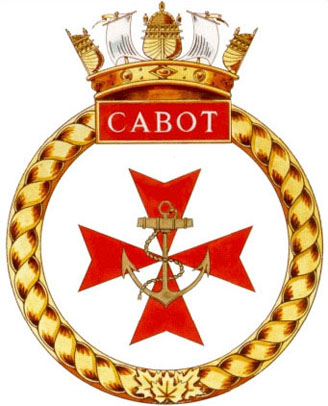 The following document is available for downloading or viewing:
For more information on accessing this file, please visit our help page.
---
BADGE
Description
Argent a Maltese cross Gules charged with a fouled anchor Or.
Significance
A statement inscribed upon the world map of 1544, now called the Paris map, related that on the morning of 24 June 1497 John Cabot and his son Sebastian discovered land to which they gave the name "Land First Seen." To a large island nearby they gave the name "Saint John" because it had been discovered on St. John the Baptist's Day.
Because of the fact that Cabot called this island Saint John, and also because the capital of Newfoundland, in which the Naval Division is situated is called St. John's, it is fitting to display the Maltese Cross of the knights of St. John, displaying it in red as a difference. To connect this particular Cross of St. John with the navy, a golden anchor has been superimposed upon it.
MOTTO
None
COLOURS
White and Vermilion
BATTLE HONOURS
None
LINEAGE
First of Name
Shore establishment.
Naval Reserve Division, St. John's, Newfoundland.
Commissioned 20 September 1949.1
---
1. Deck Log Book, HMCS Cabot, 22 September 1949, NAC/AN, RG/GE 24, vol.8250
Footnotes notice: This content is provided as it appears in the originating document (see PDF link above) and cannot be altered. Some notes reference annotation in only one of the official languages, and therefore numbers may not match in the content you are viewing. For clarification, we invite you to check the corresponding footnote in the French page.