Volume 2, Part 1: Extant Commissioned Ships
HMCS Calgary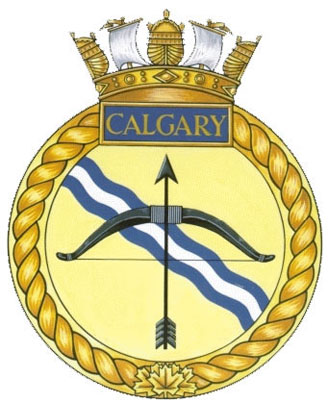 The following document is available for downloading or viewing:
For more information on accessing this file, please visit our help page.
---
BADGE
Description
Or a bend wavy Azure charged with a like bendlet Argent and in front across the centre of a bow stringed fesse-wise an arrow point upwards in pale both Sable.
Significance
The gold is representative of the fertile grain fields of the area and the "bend wavy" indicative of the Bow River which flows through Calgary. The bow is in acknowledgement of the Natives of the area.
MOTTO
ONWARD
COLOURS
Gold and Blue
BATTLE HONOURS
The Second World War
ATLANTIC, 1942-45; BISCAY, 1943;NORMANDY, 1944; ENGLISH CHANNEL ,1944-45; NORTH SEA, 1945.
LINEAGE
First of Name
Corvette, Flower Class.
Commissioned 16 December 1941.1
Paid off 15 June 1945.2
Second of Name
Frigate, Halifax Class.
Commissioned 12 May 1995.3
OPERATIONAL HISTORY
The Second World War
Calgary served on escort duties in the North Atlantic and off the coast of Scotland with 'Western Local Escort Force,' 'Western Support Force,' 'Western Approaches Command' and 'Nore Command'. During her time with 'Western Support Force' and 'Nore Command' she shared in the sinking of the German submarine U536 and sank U772.4
---
1. Signal, 121416 December 1941, C.C. Calgary to NSHQ, NAC/AN, RG/GE 24, vol.1107, file/dossier 41-69-1
2. WarAssets Corporation receipt, 15 June 1945,NAC/AN,RG/GE24, vol.5828, file/dossier 8000-331/19; SMC/FDN,HMCS Calgary,Document Collection/collection de documents
3. Commissioning Booklet/Livret de mise en service, 10 May/mai 1995, PRF/DRP HMCS Calgary II
4. Movement Log, "HMCS Calgary", 16102/15, COAC,Document Collection/collection de documents 81/520, 8000 HMCS Calgary I; Memorandum, Allocation of 5th Escort Group to C. in C., W.A.; SMC/FDN, HMCS Calgary, 211635 MS Sept. RN Historical Branch reassessment of anti-submarine operations, D/NHB 23/6, 17 September 1999, Document Collection/collection de documents 81/520, 8000 HMCS Calgary I
Footnotes notice: This content is provided as it appears in the originating document (see PDF link above) and cannot be altered. Some notes reference annotation in only one of the official languages, and therefore numbers may not match in the content you are viewing. For clarification, we invite you to check the corresponding footnote in the French page.