Volume 2, Part 1: Extant Commissioned Ships
HMCS Carleton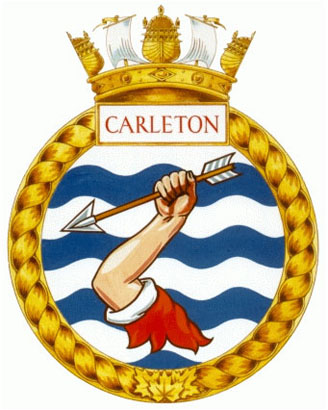 The following document is available for downloading or viewing:
For more information on accessing this file, please visit our help page.
---
BADGE
Description
Barry wavy of eight Argent and Azure the crest from the Arms of Sir Guy Carleton, Baron Dorchester which is "A dexter arm embowed and naked at the elbow the shirt sleeve folded above the elbow Argent and vested Gules; the hand grasping an arrowin bend sinister point downwards proper."
Significance
Although the division was named after the British schooner HMS Carleton (Battle of Valcour Island, 11 October 1776), there is no doubt that the original ship was named in honour of Sir Guy Carleton who is accredited with having saved Canada for the British in the defeat of Montgomery and Arnold at Quebec, New Year's Eve 1775-1776. Placing the Carleton crest upon the field of heraldic water indicates connection with the sea.
MOTTO
VINCEMUS ARMIS (With these arms we shall conquer)
COLOURS
Scarlet and White
BATTLE HONOURS
Pre-The First World War
LAKE CHAMPLAIN, 1776.
Note
Perpetuates, by right of continuous unbroken service from the Royal Canadian Navy, HMS Carleton from the Royal Navy. This perpetuation cannot be passed on to a new construction.
LINEAGE
First of Name
Shore establishment.
Naval Reserve Division, Ottawa, Ontario.
Commissioned as a tender to HMCS Bytown 1 November 1941.1
Paid off 21 May 1942 and amalgamated with HMCS Bytown.2
Recommissioned 23 November 1942.3
---
1. CNO/ONC 1666/41
2. CNO/ONC 2123/42
3. Secretariat memorandum No.149-19 November 1942, Document Collection/collection de documents 81/520, 8000 HMCS Carleton
Footnotes notice: This content is provided as it appears in the originating document (see PDF link above) and cannot be altered. Some notes reference annotation in only one of the official languages, and therefore numbers may not match in the content you are viewing. For clarification, we invite you to check the corresponding footnote in the French page.