Volume 2, Part 1: Extant Commissioned Ships
HMCS Chicoutimi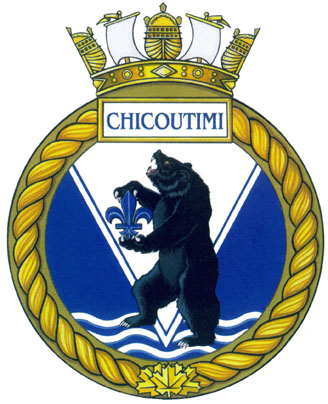 The following document is available for downloading or viewing:
For more information on accessing this file, please visit our help page.
---
BADGE
Description
Azure in front of a pile Argent bordered throughout by a letter " V " also Argent fimbriated Azure surmounting three bars wavy in base Argent a bear rampant Sable holding in the forepaws a fleur-de-lis Azure.
Significance
The badge incorporates a "V" design in blue and white in reference to the Victoria class of submarines and the colours of Quebec. The bear is an animal indigenous to the Chicoutimi area representing ferocity and strength. It protects a fleur-de-lis and stands on waves representing both the maritime environment in which the vessel operates and the rivers and lakes of the Chicoutimi area.
MOTTO
To be determined
COLOURS
Blue and White
BATTLE HONOURS
The Second World War
ATLANTIC, 1941-44.
LINEAGE
First of Name
Corvette, Flower Class.
Commissioned 12 May 1941.1
Paid off 16 June 1945.2
Second of Name
Submarine, Victoria Class.
Ex - HMS Upholder.
Commissioned (to be determined - 2002).3
OPERATIONAL HISTORY
The Second World War
Chicoutimi served on escort duties off of Nova Scotia and Newfoundland with 'Western Local Escort Force' and 'Newfoundland Command'.4
---
1. NSHQ, Particulars of Canadian War Vessels, Half-Yearly Return, February 1942, p.12
2. SMC/FDN, 16 June 1945, HMCS Chicoutimi
3. To be determined/À déterminer
4. Signal, 090033ZMay 1944, C-in-CCNA to NSHQ, Document Collection/collection de documents 81/520, 8000HMCS Chicoutimi; SMC/FDN, 301809 August 1944, HMCS Chicoutimi; SMC/FDN, 021954 December 1943, HMCS Chicoutimi; SMC/FDN, 171456 April 1945, HMCS Chicoutimi
Footnotes notice: This content is provided as it appears in the originating document (see PDF link above) and cannot be altered. Some notes reference annotation in only one of the official languages, and therefore numbers may not match in the content you are viewing. For clarification, we invite you to check the corresponding footnote in the French page.