Volume 2, Part 1: Extant Commissioned Ships
HMCS Edmonton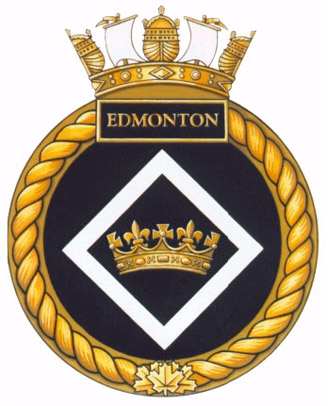 The following document is available for downloading or viewing:
For more information on accessing this file, please visit our help page.
---
BADGE
Description
Sable a representation of the coronet of her late Royal Highness the Princess Louise Caroline Alberta Or within a mascle Argent.
Significance
The black field represents the rich deposits of oil surrounding the city. The mascle represents the walls of Fort Edmonton. The coronet is that of Princess Louise Caroline Alberta, fourth daughter of Queen Victoria and wife of Canada's Governor-General from 1878 to 1883. The Province of Alberta was named for her.
MOTTO
INDUSTRIA DITAT (Industry enriches)
COLOURS
Gold and Black
BATTLE HONOURS
None
LINEAGE
First of Name
Coastal Defence Vessel, Kingston Class.
Commissioned 21 May 1997.1

---
1. Annual Historical Report/Rapport historique annuel 1997 - HMCS/NCSM Edmonton, AHR/RHA 1326-3354
Footnotes notice: This content is provided as it appears in the originating document (see PDF link above) and cannot be altered. Some notes reference annotation in only one of the official languages, and therefore numbers may not match in the content you are viewing. For clarification, we invite you to check the corresponding footnote in the French page.