Volume 2, Part 1: Extant Commissioned Ships
HMCS Malahat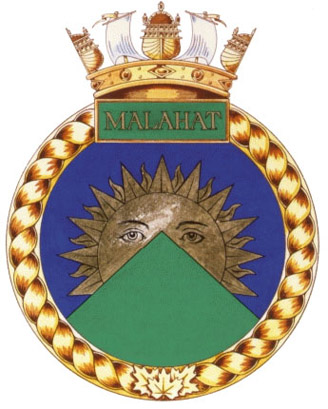 The following document is available for downloading or viewing:
For more information on accessing this file, please visit our help page.
---
BADGE
Description
Per chevron Azure and Vert in chief a demi-sun Or rising from the base.
Significance
The green section represents a mountain, and in this instance refers to the Malahat Range on Vancouver Island. The sun, although heraldically described as rising from the base is intended to refer to the sun setting in the west and is derived from a similar device in the Arms on the Province of British Columbia. The blue suggests water or the sea.
MOTTO
NAVIS EXERCITATIONE PARATA (A ship prepared by training)
COLOURS
Gold and Dark Green
BATTLE HONOURS
None
LINEAGE
First of Name
Shore establishment.
Naval Reserve Division, Victoria, British Columbia.
Commissioned 15 January 1944.1
Paid off 31 August 1946.2
Recommissioned 23 April 1947.3

---
1. CNO/ONC 3375/44
2. Minutes, Naval Board 208th Meeting, 5 March 1947, Document Collection,/collection de documents NHS/SHM 208-1
3. Minutes, Naval Board 213th Meeting, 16 April 1947, Document Collection/collection de documents NHS/SHM 213-7
Footnotes notice: This content is provided as it appears in the originating document (see PDF link above) and cannot be altered. Some notes reference annotation in only one of the official languages, and therefore numbers may not match in the content you are viewing. For clarification, we invite you to check the corresponding footnote in the French page.