Volume 2, Part 1: Extant Commissioned Ships
HMCS Nanaimo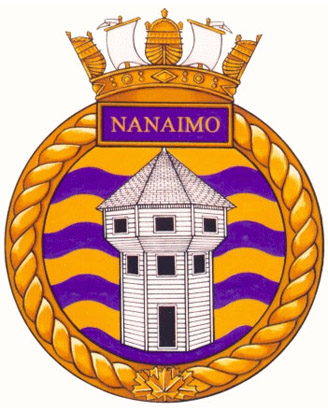 The following document is available for downloading or viewing:
For more information on accessing this file, please visit our help page.
---
BADGE
Description
Barry wavy Or and Azure over all a representation of the Nanaimo Bastion Argent port and windows Sable.
Significance
The background of blue and gold wavy lines represents the appearance of the sea on Canada's west coast as it reflects the setting sun. The Nanaimo Bastion is a famous landmark dating back to the days when the City was a Hudson's Bay Company trading fort.
MOTTO
FAITH AND LABOUR
COLOURS
Gold and Blue
BATTLE HONOURS
The Second World War
ATLANTIC, 1941-44; GULF OF ST. LAWRENCE, 1944.
LINEAGE
First of Name
Corvette, Flower Class.
Commissioned 26 April 1941.1
Paid off 28 September 1945.2
Second of Name
Frigate, River Class.
Commissioned 10 May 1997.3
OPERATIONAL HISTORY
The Second World War
Nanaimo served on escort duties off the coast of Newfoundland, in the North Atlantic and off the coast of British Columbia with the 'Western Local Escort Force', 'Newfoundland Command' and 'Pacific Coast Command'.4
---
1. Deck Log Book, HMCS Nanaimo, 26 April 1941, NAC/AN, RG/GE 24, vol.7665
2. Signal, 032212Z October 1945, Capt DESQ to COAC, NAC/AN, RG/GE 24, vol.11871, file/dossier ED 14-11
3. Annual Historical Report/Rapport historique annuel 1997 - MARPACHQ, 27 April/avril 1998, file/dossier 1325-2 (CO), AHR/RHA 1326-0097
4. "State of the Western Escort Force", 29 September 1943, Document Collection/collection de documents 81/520/8440-130 Western Escort Force; SMC/FDN,HMCS Nanaimo, 1315/26, Document Collection/collection de documents; SMC/FDN,HMCS Nanaimo, 091859 November 1943, Document Collection/collection de documents
Footnotes notice: This content is provided as it appears in the originating document (see PDF link above) and cannot be altered. Some notes reference annotation in only one of the official languages, and therefore numbers may not match in the content you are viewing. For clarification, we invite you to check the corresponding footnote in the French page.