Volume 2, Part 1: Extant Commissioned Ships
HMCS Preserver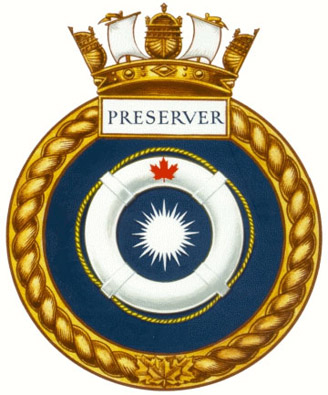 The following document is available for downloading or viewing:
For more information on accessing this file, please visit our help page.
---
BADGE
Description
Azure a life preserver Argent cabled Or charged on the centre chief point with a maple leaf slipped Gules and within the ring a starburst also Argent.
Significance
The life preserver is a rebus on the ship's name and with the red maple leaf gains Canadian identification. The starburst in the centre symbolizes the flare that is automatically ignited when the life preserver touches the water.
MOTTO
LE COEUR DE LA FLOTTE (The heart of the fleet)
COLOURS
Blue and White
AFFILIATION
HMCS Preserver has been granted an affiliation with the 1st Canadian Division. This affiliation cannot be transferred to new construction.
BATTLE HONOURS
None
LINEAGE
First of Name
Base Supply Ship.
Commissioned 11 July 1942.1
Paid off 6 November 1945.2
Second of Name
Operational support ship, Protecteur Class.
Commissioned 7 August 1970.3
OPERATIONAL HISTORY
The Second World War
Preserver served as a Fairmile motor launch base supply ship off of the East Coast with 'Newfoundland Force'.4
---
1. SMC/FDN, 2150/11, HMCS Preserver
2. Deck Log Book, HMCS Preserver, 6 November 1945, NAC/AN, RG/GE 24, vol.7746
3. Canadian Forces Information Release No. ARIO 70-38, 21 July/juillet 1970, PRF/DRP, HMCS Preserver; Booklet/Livret, "Welcome Aboard HMCS Preserver (AOR 510)", undated/sans date, PRF/DRP, HMCS Preserver
4. Signal, 11 August 1942, NSHQ to COAC, Document Collection/collection de documents 81/520, 8000 HMCS Preserver
Footnotes notice: This content is provided as it appears in the originating document (see PDF link above) and cannot be altered. Some notes reference annotation in only one of the official languages, and therefore numbers may not match in the content you are viewing. For clarification, we invite you to check the corresponding footnote in the French page.