Volume 2, Part 1: Extant Commissioned Ships
HMCS Prevost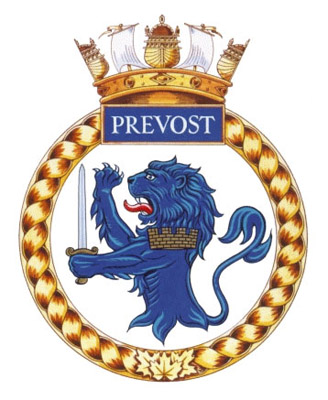 The following document is available for downloading or viewing:
For more information on accessing this file, please visit our help page.
---
BADGE
Description
Argent a demi-lion rampant Azure charged upon the shoulder with a mural crown Or the sinister paw grasping a sword erect proper pommel and hilt Or.
Significance
The badge device is taken from the crest in the Arms of Lieutenant-General Sir George Prevost, Bart, who was Governor-in-Chief of the Canadas in 1811, and Commander-in-Chief of the British Forces in Canada during the War of 1812.
MOTTO
None
COLOURS
White and Azure Blue
BATTLE HONOURS
None
LINEAGE
First of Name
Shore establishment.
Naval Reserve Division, London, Ontario.
Commissioned as a tender to HMCS Stadacona 1 November 1941.1
Recommissioned as an independent shore establishment 1 September 1942.2
Paid off 30 November 1964.3
Recommissioned 29 September 1990.4
---
1. CNO/ONC 1666/41
2. CNO/ONC 2245/42
3. Signal, 282204Z October 1964, Document Collection/collection de documents 81/520, 8000 HMCS/NCSM Queen
4. Booklet/Livret, "The Commissioning of HMCS Prevost, 29 September 1990", AHR/RHA 1326-3484
Footnotes notice: This content is provided as it appears in the originating document (see PDF link above) and cannot be altered. Some notes reference annotation in only one of the official languages, and therefore numbers may not match in the content you are viewing. For clarification, we invite you to check the corresponding footnote in the French page.