Volume 2, Part 1: Extant Commissioned Ships
HMCS Protecteur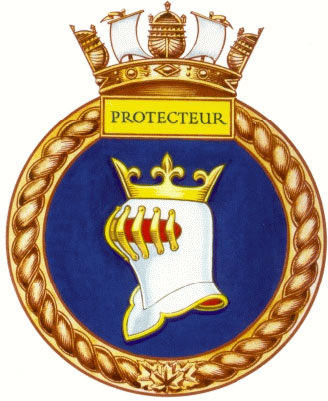 The following document is available for downloading or viewing:
For more information on accessing this file, please visit our help page.
---
BADGE
Description
Azure a silver helmet with five grills Or garnished of the last and bearing a coronet fleurs-de-lis also Or.
Significance
A helmet is an instrument of protection, and in this instance, having the coronet trimmed with fleurs-de-lis, the device of former Royal France, it becomes a "protecteur."
MOTTO
SOUTIEN AVEC COURAGE (Support with courage)
COLOURS
Blue and Gold
BATTLE HONOURS
The Gulf War
GULF AND KUWAIT.
LINEAGE
First of Name
Operational Support Ship, Protecteur Class.
Commissioned 30 August 1969.1
OPERATIONAL HISTORY
The Gulf War
Protecteur participated with the multinational Persian Gulf naval force in the United Nations' action against Iraq.2
---
1. Commissioning booklet/Livret de mise en service, HMCS Protecteur, 30 August/août 1969, PRF/DRP HMCS Protecteur
2. CFSO/OSFC 5/94
Footnotes notice: This content is provided as it appears in the originating document (see PDF link above) and cannot be altered. Some notes reference annotation in only one of the official languages, and therefore numbers may not match in the content you are viewing. For clarification, we invite you to check the corresponding footnote in the French page.