Volume 2, Part 1: Extant Commissioned Ships
HMCS Queen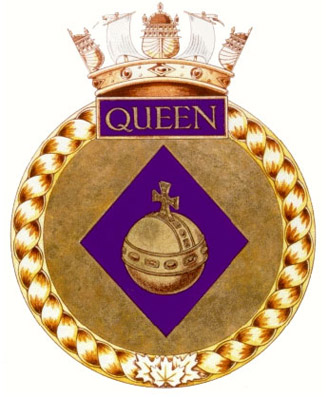 The following document is available for downloading or viewing:
For more information on accessing this file, please visit our help page.
---
BADGE
Description
Or a lozenge Purpure charged with an orb of the first.
Significance
The ship's name derives from its location as the literal translation of the Latin 'regina' is 'queen.' The colours purple and gold proclaim association with royalty. The lozenge or diamond is the shape of shield used by an heiress, and the orb denotes regal authority.
MOTTO
AUGUSTA INVICTAQUE (Majestic and invincible)
COLOURS
Gold and Purple
BATTLE HONOURS
Pre-The First World War
USHANT, 1781; "First of June", 1794; GROIX ISLAND, 1795; CRIMEA, 1854-55.
The First World War
DARDANELLES, 1915.
The Second World War
ATLANTIC, 1944; NORWAY, 1945; ARCTIC, 1945.
Note
Perpetuates, by right of continuous unbroken service from the Royal Canadian Navy, seven warships of the Royal Navy which previously carried the name. This perpetuation cannot be passed on to a new construction.
LINEAGE
First of Name
Shore establishment.
Naval Reserve Division, Regina, Saskatchewan.
Commissioned as a tender to HMCS Naden 1 November 1941.1
Recommissioned as an independent shore establishment 1 September 1942.2
Paid off 30 November 1964.3
Recommissioned 28 September 1975.4
---
1. CNO/ONC 1666/41
2. CNO/ONC 2245/42
3. Signal, 151704Z December 1964, CANFORCEHED to CANAVGEN, Document Collection/collection de documents 81/520, 8000 HMCS/NCSM Queen
4. Commissioning booklet/Livret de mise en service, HMCS/NCSM Queen, 28 September/septembre 1975, AHR/RHA 1326-1339
Footnotes notice: This content is provided as it appears in the originating document (see PDF link above) and cannot be altered. Some notes reference annotation in only one of the official languages, and therefore numbers may not match in the content you are viewing. For clarification, we invite you to check the corresponding footnote in the French page.