Volume 2, Part 1: Extant Commissioned Ships
HMCS Queen Charlotte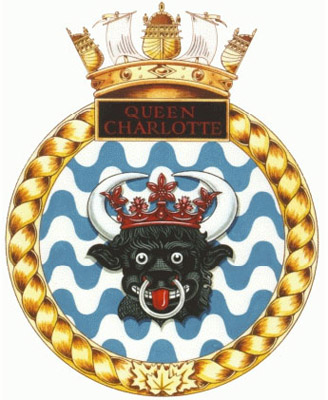 The following document is available for downloading or viewing:
For more information on accessing this file, please visit our help page.
---
BADGE
Description
Barry wavy of ten Argent and Azure over all a bull's head affronty Sable langued Gules armed and annulled Argent crowned with a ducal coronet Gules.
Significance
Queen Charlotte is named for a Provincial Marine Corvette, built at Amherstburg in 1809 for service on Lake Erie, and which was named in honour of Queen Charlotte, wife of George III, King of England, 1760-1820. Queen Charlotte was the daughter of Charles Louis, Duke of Mecklinburg, and for this reason the bull's head from the Mecklinburg's coat of arms, with appropriate differing, has been chosen.
MOTTO
None
COLOURS
Red and Black
BATTLE HONOURS
None
LINEAGE
First of Name
Shore establishment.
Naval Reserve Division, Charlottetown, Prince Edward Island.
Commissioned as a tender to HMCS Stadacona 1 November 1941.1
Recommissioned as an independent shore establishment 1 September 1942.2
Paid off 15 December 1964.3
Recommissioned 17 September 1994.4
---
1. CNO/ONC 1666/41
2. CNO/ONC 2245/42
3. Signal, 282204Z October 1964, CANFORCEHED to CANCOMD, Document Collection/collection de documents 81/520, 8000 HMCS Queen
4. Commissioning certificate/Certificat demise en service, HMCS/NCSM Queen Charlotte, 17 September/septembre 1994, PRF//DRP HMCS Queen Charlotte
Footnotes notice: This content is provided as it appears in the originating document (see PDF link above) and cannot be altered. Some notes reference annotation in only one of the official languages, and therefore numbers may not match in the content you are viewing. For clarification, we invite you to check the corresponding footnote in the French page.