Volume 2, Part 1: Extant Commissioned Ships
HMCS Shawinigan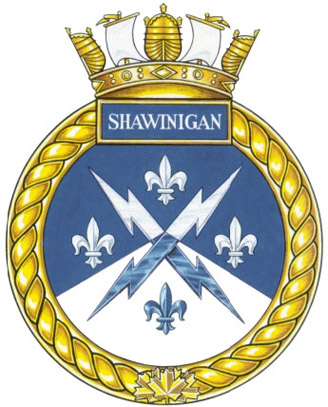 The following document is available for downloading or viewing:
For more information on accessing this file, please visit our help page.
---
BADGE
Description
Per chevron Azure and Argent over all two flashes in saltire between four fleur-de-lis all counter changed.
Significance
Shawinigan means "portage on the crest". The reverse 'V' shape represents the crest from which the city derives its name. The upper blue represents the calm river above the waterfalls, which are marked by the white. The lightning flashes are from the Arms of the city. The fleur-de-lis is from the municipal flag, but multiplied by four to match that in the flag of the Province of Quebec, where the city is located.
MOTTO
FAIS BIEN CE QUE TU FAIS (Do well what you are doing)
COLOURS
White and Blue
AFFILIATION
HMCS Shawinigan has an official affiliation with 62nd Field Artillery Regiment, RCA. This affiliation cannot be transferred to new construction.
BATTLE HONOURS
The Second World War
GULF OF ST. LAWRENCE, 1942, 1944; ATLANTIC, 1942-44.
LINEAGE
First of Name
Corvette, Flower Class.
Commissioned 19 September 1941.1
Sunk by enemy action 25 November 1944.2
Second of Name
Shore establishment.
Coastal Defence Vessel, Kingston Class.
Commissioned 14 June 1997.3
OPERATIONAL HISTORY
The Second World War
Shawinigan served on escort duties off of Nova Scotia and Newfoundland and in the North Atlantic with 'Sydney Force', 'Newfoundland Command', 'Halifax Force' and the 'Western Local Escort Force'.4 She was torpedoed and sunk in the Cabot Strait by the German submarine U1228.5
---
1. SMC/FDN, HMCS Shawinigan, 2114/19; Signal, NOIC QUEBEC to NSHQ, 192114Z September 1941, NAC/AN, RG/GE 24, vol.11570, file/dossier 27-5-48
2. Signal, 082054Z December 1944, C IN C CNA to C STADACONA NOIC, NAC/AN, RG/GE 24, vol.11647, file/dossier HMCS Shawinigan
3. Annual Historical Report/Rapport historique annuel 1997 - HMCS/NCSM Shawinigan, no file number,aucun numéro de dossier, AHR/RHA 1326-3355
4. SMC/FDN, HMCS Shawinigan, 1920/22; SMC/FDN, HMCS Shawinigan, 021541Z January 1942; "The First Year of Canadian Operational Control in the Northwest Atlantic", 18 August 1944, Appendices A and B, Document Collection/collection de documents 81/520, 8400-130 Western Escort Force
5. Signal, C IN C CNA to NSHQ, 261823Z November 1944, Document Collection/collection de documents 81/520, 8000 HMCS Shawinigan; Signal, NSH Q to COMINCH, 081351Z June 1945, Document Collection/collection de documents 81/520, 8000 HMCS Shawinigan
Footnotes notice: This content is provided as it appears in the originating document (see PDF link above) and cannot be altered. Some notes reference annotation in only one of the official languages, and therefore numbers may not match in the content you are viewing. For clarification, we invite you to check the corresponding footnote in the French page.