Volume 2, Part 1: Extant Commissioned Ships
HMCS St. John's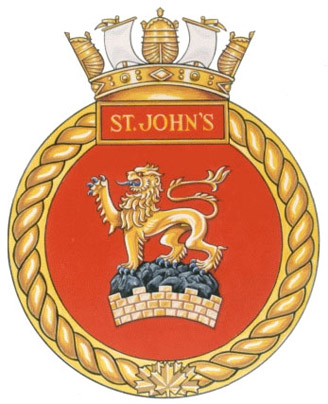 The following document is available for downloading or viewing:
For more information on accessing this file, please visit our help page.
---
BADGE
Description
Gules issuant from a mural crown Or a rocky mount Sable thereon a lion passant Or langued and armed Azure.
Significance
The lion depicts St John's status as the provincial capital and seat of the Lieutenant-Governor. The mural crown is commonly found in the arms of fortified cities, and makes particular reference to the Battery. The rocky mount upon which the lion stands refers to the "Rock" of Newfoundland and to the dominant topography of the capital region. The badge's field, like that of both the provincial and civic arms of St. John's, is red.
MOTTO
AVANCEZ (Advance)
COLOURS
Gold and Red
BATTLE HONOURS
None
LINEAGE
First of Name
Frigate, Halifax Class.
Commissioned 24 June 1996.1
---
1. Annual Historical Report/Rapport historique annuel 1996 - HMCS/NCSM St. John's, 10 February/février 1997, file/dossier 1325-1 (NAVO), AHR/RHA 1326-1681
Footnotes notice: This content is provided as it appears in the originating document (see PDF link above) and cannot be altered. Some notes reference annotation in only one of the official languages, and therefore numbers may not match in the content you are viewing. For clarification, we invite you to check the corresponding footnote in the French page.