Volume 2, Part 1: Extant Commissioned Ships
HMCS Toronto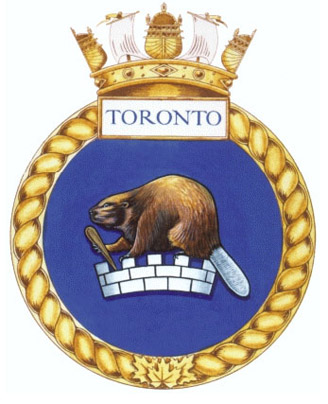 The following document is available for downloading or viewing:
For more information on accessing this file, please visit our help page.
---
BADGE
Description
Azure a mural crown Argent masoned Sable surmounted by a beaver proper holding in the dexter paw a fid spike Or.
Significance
A mural crown over the shield in the arms of a community usually indicates that the place is or was a fortified settlement. In the Arms of Toronto reference to Old Fort York is made by the display of the mural crown above the shield. This is surmounted by a beaver, which here is intended to refer to industry and also to the fact that Old Fort York was once a centre of fur trade with the Natives in that region.
The badge of Toronto does honour to that city by using the crest from the civic arms with necessary and appropriate difference by having the beaver hold a fid which associates the Toronto beaver with things nautical.
MOTTO
EXCELLENCE WITH VIGOUR
COLOURS
Blue and White
BATTLE HONOURS
The Second World War
GULF OF ST. LAWRENCE, 1944.
LINEAGE
First of Name
Frigate, River Class.
Commissioned 6 May 1944.1
Paid off 27 November 1945.2
Converted to a Prestonian Class ocean escort and recommissioned 26 November 1953.3
Paid off 14 April 1956.4
Second of Name
Frigate, Halifax Class.
Commissioned 29 July 1993.5
OPERATIONAL HISTORY
The Second World War
Toronto served on escort duties off the coast of Nova Scotia and in the North Atlantic with 'Halifax Force'.6
---
1. Daily States (RCN Weekly States), 9 May 1944, Document Collection/collection de documents 81/520/1650-DS Vol.39
2. SMC/FDN, HMCS Toronto, 271530 November 1945
3. SMC/FDN, HMCS Toronto, 262225 November 1953
4. SMC/FDN, HMCS Toronto, 162305 April 1956
5. Annual Historical Report/Rapport historique annuel 1994 - HMCS/NCSM Toronto, file/dossier 1325-1, 11 February/février 1994, AHR/RHA 1326-1237
6. Signal, C IN C CNA to NSHQ, 031303Z March 1945, Document Collection/collection de documents 81/520, 8000 HMCS Toronto
Footnotes notice: This content is provided as it appears in the originating document (see PDF link above) and cannot be altered. Some notes reference annotation in only one of the official languages, and therefore numbers may not match in the content you are viewing. For clarification, we invite you to check the corresponding footnote in the French page.