Volume 2, Part 1: Extant Commissioned Ships
HMCS Unicorn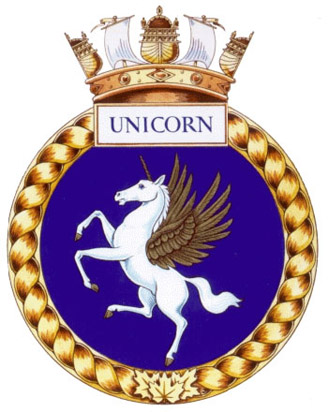 The following document is available for downloading or viewing:
For more information on accessing this file, please visit our help page.
---
BADGE
Description
Azure awinged unicorn rampant Argent armed unguled crined and winged Or.
Significance
Named for the Royal Navy ship that explored Hudson's Bay in search of the Northwest Passage. This badge design was furnished by the Admiralty who have graciously granted its use as the ship's badge. The mythical animal shown in the badge is actually awinged horse or pegasus, but having the horn coming from its head it is considered to be a winged unicorn, rather than a horned pegasus.
It has been the custom to add wings to any figure held in veneration, from the angels of Christianity to Mercury and Pegasus. Because the name Unicorn is highly esteemed in British naval annals, the wings were added.
MOTTO
UNICUS EST (The only one of its kind; Unequalled)
COLOURS
Royal Blue and White
BATTLE HONOURS
Pre-The First World War
ARMADA, 1588; CADIZ, 1596; PORTO FARINA, 1655; SANTA CRUZ ,1657; LOWESTOFT, 1665; ORFORDNESS, 1666; SOLE BAY, 1672; SCHOONEVELD, 1673; TEXEL, 1673; "Vestale" ,1761; "Tribune", 1796; BASQUE ROADS, 1809.
The Second World War
SALERNO, 1943; OKINAWA, 1945.
United Nations Operation-Korea - 1950-1953
KOREA, 1950-53.
Note
Perpetuates, by right of continuous unbroken service from the Royal Canadian Navy, eleven warships of the Royal Navy. This perpetuation cannot be passed on to a new construction.
LINEAGE
First of Name
Shore establishment.
Naval Reserve Division, Saskatoon, Saskatchewan.
Commissioned as a tender to HMCS Naden 1 November 1941.1
Recommissioned as an independent shore establishment command 1 September 1942.2
---
1. CNO/ONC 1666/41
2. CNO/ONC 2245/42
Footnotes notice: This content is provided as it appears in the originating document (see PDF link above) and cannot be altered. Some notes reference annotation in only one of the official languages, and therefore numbers may not match in the content you are viewing. For clarification, we invite you to check the corresponding footnote in the French page.