Volume 2, Part 1: Extant Commissioned Ships
HMCS Victoria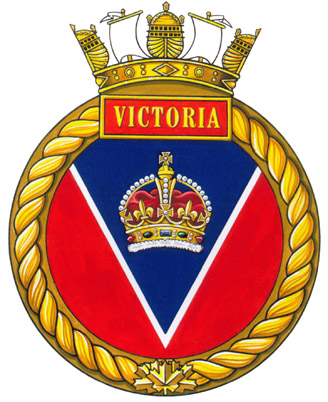 The following document is available for downloading or viewing:
For more information on accessing this file, please visit our help page.
---
BADGE
Description
Gules on a pile Argent another Azure charged with a representation of the Royal Crown proper.
Significance
The badge uses a "V" format, a reference to the Victoria class of submarines. The vessel was named for the City of Victoria, British Columbia, and the badge is derived from the shield of the City's Coat of Arms. The colours of the city's shield have been reversed to place the colour blue, associated with the navy, above all other colours. The Crown, in a form often used during Queen Victoria's reign, is depicted on the blue portion of the badge.
MOTTO
EXPECT NO WARNING
COLOURS
Gold and Red
BATTLE HONOURS
None
LINEAGE
First of Name
Submarine, Victoria Class.
Ex - HMS Unseen.
Commissioned 2 December 2000.1
---
1. MARGEN 064/00, 271230Z Oct/oct 00
Footnotes notice: This content is provided as it appears in the originating document (see PDF link above) and cannot be altered. Some notes reference annotation in only one of the official languages, and therefore numbers may not match in the content you are viewing. For clarification, we invite you to check the corresponding footnote in the French page.